If you are looking for the Adani electricity bill payment online Mumbai 2023 service, you are in the right place. Here we will guide you step by step about all payment options. You can learn how to get Adani Electric's duplicate bill. Technology has made life easy; you can Pay any utility bills online while sitting comfortably. Before this, you had to stand in long queues and waste time. But now, if you have a cell phone and a reliable internet connection, you can pay your bills, buy tickets, transfer money buy the things you want.
How to Pay Adani's Electricity Bill Payment Online?
Please provide us with the AEML number details listed on your bill.

See Adani electricity bill view online Access the electricity bill and select "Pay."

Keep your Credit/ Debit or EbixCash details, Net Banking User ID and Password, and other pertinent information handy based on the payment method.

Choose the method of payment you prefer and follow the steps for online payment of your electricity bill.

The gateway authenticates the transaction for payment.

Payment is debited immediately.

You will receive the Transaction Reference Number as an acknowledgment receipt.

It takes a working day to process your account with your AEML account. This is visible on this site within 3-5 working days.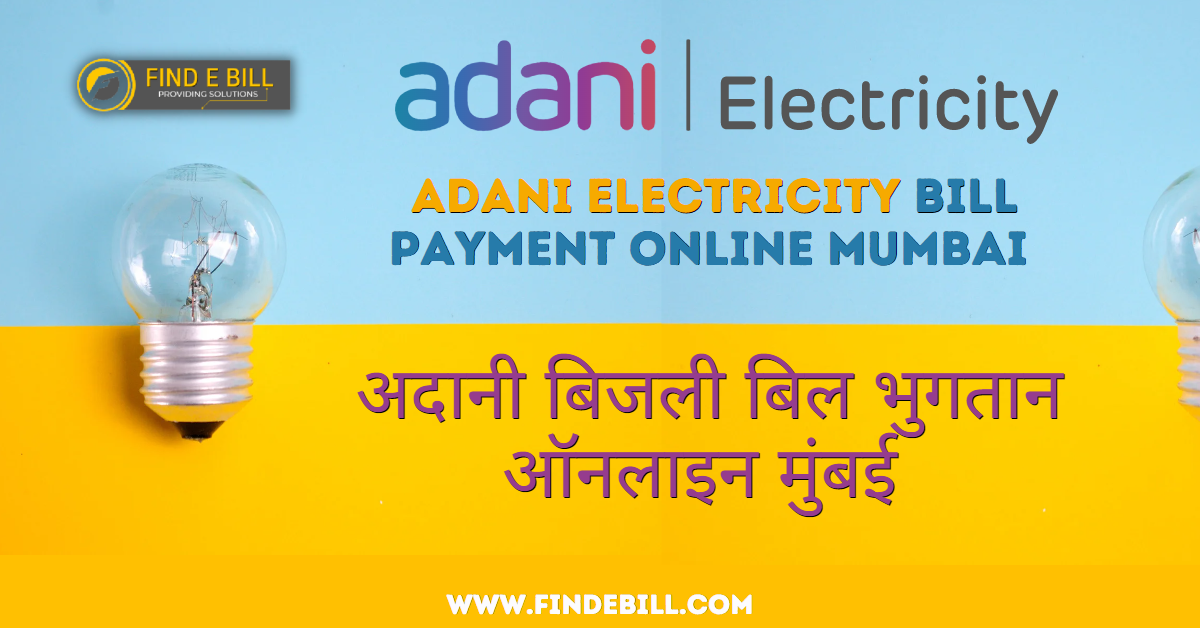 Adani Electricity Bill Download Online
Don't worry if you lost your Adani Electricity bill or you did not revive your monthly Adani Electric bill. Find AEML number details on your Adani's Previous month's bill. Write this number in the Bar mentioned above. As a result, you can get a duplicate copy of the Adani Electricity Bill 2023.
Pay Adani Electricity Bill Through Net Banking
Mumbai, India, is fully digitalized now; if you are a bank account holder at bellow mentioned bank, you can quickly Pay your Adani Electricity bill online. Here is the bank list, State Bank of India, Citibank, IDBI Bank, Punjab National Bank, ABN AMRO, HDFC Bank, Union Bank of India, Bank of India, IndusInd Bank, and AXIS Bank.
Adani Electricity Bill Payment Via
Google Pay
This is how to pay your electric bill using Google Pay:
Open the Google Pay (G Pay) application from your smartphone

Choose the "New Payment" option

Next screen, select the "Bill Payments" option

To initiate bill payment, tap on the "Electricity" tab

Adani Electricity allows you to link your consumer account

To complete the payment, enter the amount of the bill and your UPI PIN.
You can pay your electricity bill in six easy steps. Now you can choose to save your receipt or share it. Find out how to receive an electricity bill receipt using Google Pay.
After you have paid via G Pay, the Export Receipt option will be available.

This option allows you to save or share your electric bill receipt.
Pay Adani Electricity bill via the BHIM app
Start the BHIM app on your mobile device.

Choose "Pay Bills" in the menu.

Choose "Electricity" among the available categories.

Choose the right electrical panel

Give your customer ID.

Next, enter the balance due and your UPI PIN. Finally, select the checkmark.

The payment will be processed immediately
Customer Care Adani Electricity
If you need to submit a complaint against Adani Electric or for any other query, please call: 1800-200-3030. Send Power <9 digit account number> to 7065313030 for SMS or Whatsapp.
FAQs About Adani Electricity
Q. How do I pay my Adani electricity bill online?
A. By providing nine digital AEML number details. You can quickly download and pay your monthly Bill Payment.
Q. How can I check my Adani electricity bill online in Mumbai?
A. The Process is the same; you must have your 9 Digits AEML number to check your Electricity Bill.
Q. How do I pay my Adani electricity bill through Google?
A. Open the G-Pay From your Smart Phone, Select the Payment option, and Follow further Instructions.
Q. What is the billing cycle of Adani Electricity?
A. The billing cycle of Adani Electricity is a Minimum of 28 days and a Maximum of 32 Days.
Q. What is the meter number on Adani's electricity bill?
A. Meter numbers are unique numbers provided to customers by Adani Electric.
Q. What is Adani Electricity Bill Payment BillDesk?
A. BillDesk is a payment gateway for Adani Electric bill payments.
Adani ELectric Head Office Address and Location
So, if you need to visit Adani Electric Head office physically, here is the Address and Google Map Location for directions.
City2, Plot No, 177, CST Road, near L&T, Kalina, Santacruz East, Mumbai, Maharashtra 400098, India
Thank you for reading.