Bihar Bijli Bill Payment Online 2023 is not a problem nowadays. Before the arrival of the internet, it was a time and energy-consuming task. PEOPLE FROM Bihar face many problems regarding the Bihar bijli bill—electricity bills s increasing daily. But we are not discussing it here, and Today, we will provide solutions to your problem regarding Bihar Bijli Bill. We will guide you step by step. You can Pay the Bihar Bijli Bill payment online. Also, give you a solution to download the Bihar bijli bill duplicate copy. So keep reading the complete article, and I hope you will find the solution to your issue.
Based on regions within Bihar, the state's capital. Bihar Electricity is provided to the state by two companies. Through both electricity provider companies, facilities for accessing electricity bills online have been made accessible to consumers. The consumer will no longer be required to visit the office responsible for the information regarding the electricity bill.
Pay Bihar Bijli Bill Payment Through Mobile App
North Bihar Power Distribution Company Ltd (NBPDCL) and South Bihar Power Distribution Company Ltd (SBPDCL) give this facility to consumers. Everybody has a cell phone in their pocket, so it is easy for people to pay their Bihar Bijli Bill via Mobile Application. Here we will guide you on how to pay your Bihar Bijli bill payment through Mobile App.
Go to Google Play Store and download Bihar Electricity Mobile App.
When Downloading is complete, Please Open the App.
Now Press the option "INSTANT BILL PAYMENT."
Enter your CA Number and Press the Button Pay Details.
On Next Screen, you will see all details of your bill, and if you want to pay, then select the Pay Bill Button.
How Can I Get my CA number in NBPDCL?
CA number is a unique number given by Bihar Electric to their customers. CA is also known as Consumer Number. You can check, view, and download your Bihar Bijli Electricity bill by providing your CA number. If you don't know your CA number, visit NBPDCL or SBPDCL's Official Website. You will see a Notification "Click Here to Know your CA number." By Clicking this, you will find your CA number.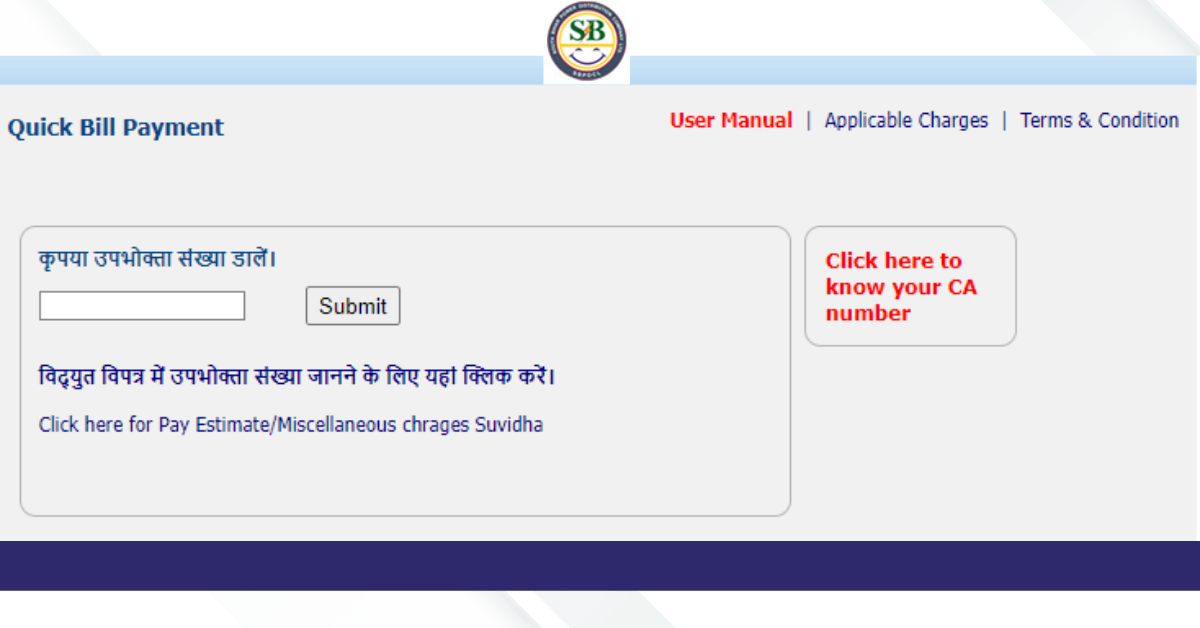 Bihar Bijli Supply Company Structure
Two Major Companies are responsible for providing electricity supply in Bihar.
North Bihar Power Distribution Company Ltd (NBPDCL)
South Bihar Power Distribution Company Ltd (SBPDCL)
Download Bihar Bijli Bill? Short Process
Open your Web Browser and visit NBPDCL or SBPDCL means the North and South Bihar Electric Company Official Website.
On Next Screen, you will see Prepaid Meter. Please Click it.
Enter your CA or Subscriber Number and Submit.
In the end, click the Button Named View Bill.
A file starts downloading on your phone or Laptop.
You can quickly download and save your monthly electricity bill on your phone. You can also print it out when you need it.

FAQ About NBPDCL and SBPDCL
Q. Can I pay Bihar's electricity bill online?
A. If you have an Android or Apple Phone and an internet connection, you can pay your Bihar Bijli bill online. You need to provide your CA number.
Q. How can I check my Bijli bill in Bihar?
A. By Providing the CA number on NBPDCL's official website, you can check your Bihar Electric Bill.
Wrapping Up
I hope you find a solution to your issue. We here on this website always bring the solution for your Water, Electricity, Gas, Insurance. and Taxes issues. If you are from Uttar Pradesh, please read our article on Uttar Pradesh Electricity Bill Payment Online 2023. Please write us if you have any questions or queries about this topic. Thank you for reading.