Midland water bill customers are welcome to my blog post, and here we will explore the city of Midland water bill payment options. In our digitalized world, where access to clean and reliable water is essential, this article aims to provide a comprehensive guide to all available bill payment options by Midlan Water. We will answer your queries about the Midland Water billing system. So stay with us and explore the best water bill payment option that suits you best.
City of Midland Water Bill Pay Online
This is the best and quickest way to pay your bill online. You need to create an account; After registration, you can get under-listed benefits.
Customers track and analyze water usage.
You can view, download and Pay your Midland water bill online.
Customers can download their bill payment history.
Manage their account by Laptop and smartphone on the go.
To get these benefits, you need to register yourself by visiting this link  and providing the under-mentioned information,
And after registration, visit the Midland, tx, water bill login page, provide your username/password, and click the login button.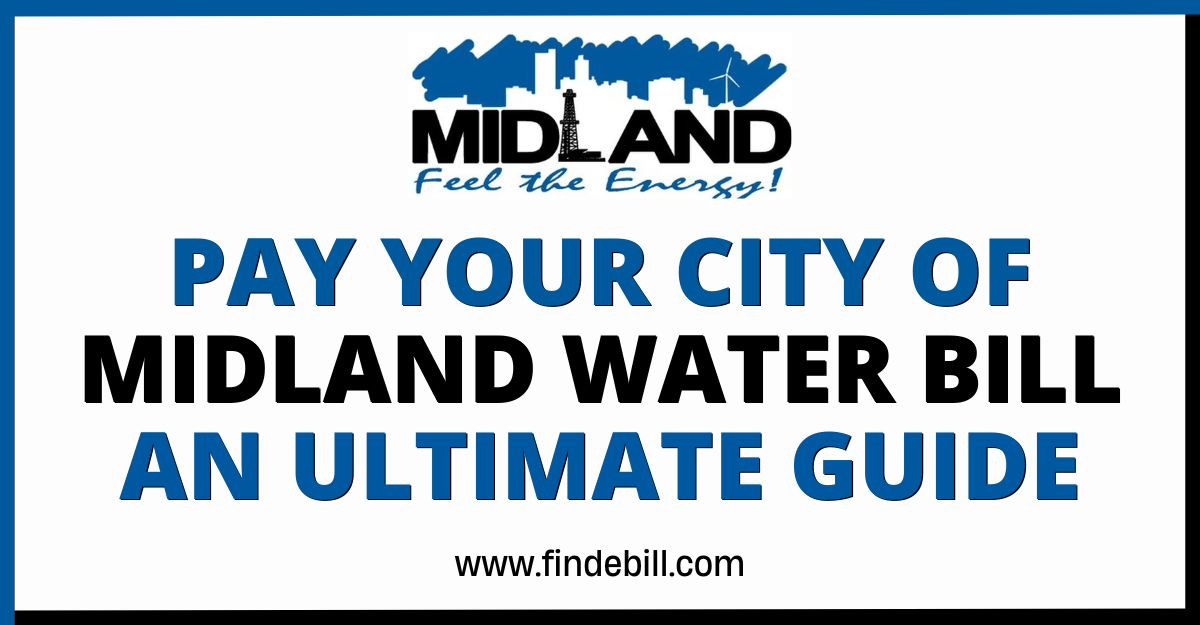 The City Of Midland Pay Bill By Mail
Customers of Midland Water can pay their bills traditionally by mail. Send your lower part of the Midland water bill copy with a check or money order to,
Customer Service
PO Box 1152
Midland, Texas 79702-1152
Make sure to write the Midland Water account number on the check and money order to avoid delays.
Pay the City Of Midland Tx Water Bill In-Person
Midland Water collaborates with MR. PAYROLL to collect bill payments. Visit under-listed MR. PAYROLL location and provide your account number to complete the payment process,
| | | |
| --- | --- | --- |
| Store # | Location | Contact Number |
| 1. | 3310 W. Wall | 520-2274 |
| 2. | 4709 N. Midkiff | 697-2796 |
| 3. | 2910 N. Big Spring | 570-5274 |
| 4 | 4701 Briarwood | 694-7523 |
| 5. | 800 E. Florida | 685-1274 |
| 6. | 4400 W. Illinois | 520-2031 |
| 7. | 1709 Rankin Hwy | 695-6941 |
| 8. | 3300 N. Midland | 704-5322 |
Midland Mi Water Bill Pay By Phone
Customers can pay their water bill by dialing 432-685-7320 on their phone. Follow automated instructions and provide your Midland water account number to complete the payment process. For more assistance with this service, please call Midland customer service.
City Of Midland One Time Payment
You can now pay your bill via credit card, debit card, or Check if you do not want to create an account on Midland Water's official website. It is a quick, convenient, and secure bill payment option; for this service, registration is required.
Payment Mod. Master Card – Visa Card.
Company Overview – Midland Water

Official Website
https://water.midlandtexas.gov/
Category
Utilities

City of Midland Phone Number

City of Midland Customer Service

432-685-7320 –

Cs@midlandtexas.gov

Social Media Links
Follow Twitter
Headquarters Address
City of Midland Services
Water & Sewer
City of Midland Service Area
Midland – Texas
Complaint
432-685-7320
Midland Water Youtube Channel
cityofmidland
Also Read. Houston Water Bill Pay: Guide to Online Payments
The Faqs City of Midland Water Department Midland Tx
Q. How can I pay my water bill in Midland, TX?
A. You can pay through a website, dialing 432-685-7320 on the phone and sending mail to Customer Service PO Box 1152 Midland, Texas 79702-1152 and visiting MR. PAYROLL locations.
Q. Where does the City of Midland get water?
A. Since 1948, Midland has received water from Lake Huron.
Q. How can I contact Midland Water? 
A. Dial 432-685-7320 to contact Midland Water on your phone.
Wrapping Up
In this article, we explored all available Midland Water bill payment options. Midland Water has developed its billing system for the betterment of its customers. Now you can pay Midland water cill online and also traditionally. Choose the best payment method and enjoy Midland's State of the art billing system. Thank you for reading. Please share it.