In this article, we'll discuss the City of Raleigh Water bill pay online. Customers always prefer simple and convenient payment options that companies offer. So, If you're a resident of the City of Raleigh and need to pay your utility bill, this article will give you a complete guide about the bill payment options. The City of Raleigh has also offered all modern payment options and traditional methods. From the safest online payment to in-person options, Customers can select the way that suits them best. This article will give you a guide to step-by-step procedures of payments along with benefits and features.
City of Raleigh Water Bill Payment Online
Online bill payments are always very safe and straightforward. All you have to do is visit the official website of Raleigh Water and create your online presence by completing the signup. With your online portal, you can pay with various payment methods like Amazon Pay, Visa, Mastercard, American Express, Discover, E-check, Venmo, PayPal, and PayPal credit. If you need more assistance, Dial the City of Raleigh phone number 919-996-3245 or email your query to customer service at customercare@raleighnc.gov.
Raleigh Water Signup
To create your account, you must complete the signup process by providing this information.
City of Raleigh Water Bill Login
Once registered, you can log in to your water bill account by providing User Name and Password. With your online account, you'll have a choice to pay with multiple options along with additional benefits.
You can access your account 24/7 from anywhere.
Customers can pay and download their bill history.
Can contact customer service.
And also you can select a one-time payment method.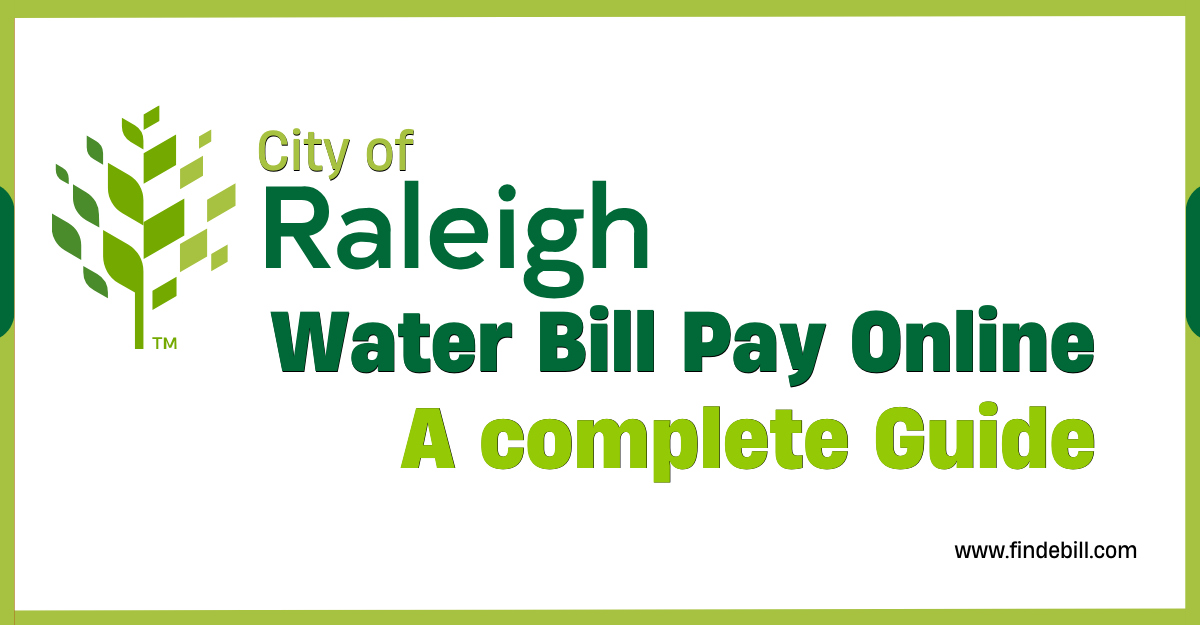 Raliegh Water Bill One Time Payment
Customers can pay their bills without registering their account on the website. One-time payments will give them more control over their finances. Apart from your bill, you can also pay someone else's bill.
Raliegh Water AutoPay – Recurring Bank Drafts
Say goodbye to late fees and disruptions with AutoPay. Enroll and payments are automatically drafted from your bank account, ensuring on-time bill payments. Benefits include no extra costs, timely payments, service disruptions, and easy management. Check with your bank for savings account eligibility. Note: AutoPay is for U.S. accounts only.
Raleigh Water Bill AutoPay – by Credit Card
AutoPay by credit card offers timely and hassle-free payments. Payments are automatically charged monthly, ensuring on-time payments with no additional costs. Enjoy uninterrupted service and receive email reminders. It's worry-free once it's set up.
Pay Raleigh Water Bill By Phone
Customers can pay their bills by phone by dialling 888-905-3169 to access the automated phone system. Ensure you have your payment method information, utility account number, and the service address zip code available. This service is available 24/7.
City of Raleigh Pay Bill By Mail
If someone prefers traditional payment methods, they can mail a check or money order with the utility bill stub to the following address.
City of Raleigh
PO Box 71081
Charlotte, NC 28272-1081
Please note that USPS mail delays can sometimes cause utility bills and payments to take extra time to be received, so be sure to allow this extra delivery time when mailing your payments.
Pay Raleigh NC Water Bill In Person
For those who prefer in-person transactions, the City of Raleigh offers official utility payment locations where you can make payments using cash, check, money order, or major credit cards such as Visa, MasterCard, American Express, and Discover. This provides an excellent option for those who prefer face-to-face interactions.
Company Overview City of Raleigh Water
| | |
| --- | --- |
| City of Raleigh Water Official Website | https://raleighnc.gov/ |
| Category | Utilities |
| City of Raleigh Water Phone Number | |
| City of Raleigh Water Customer Service | |
| Social Media Links | City of Raleigh Water Facebook– Follow on Youtube – Follow on Twitter |
| City of Raleigh Water Headquarters Address | 222 W Hargett St, Raleigh, NC 27601 |
| City of Raleigh Water Services |  Water & Sewer, Waste & Recycling |
| City of Raleigh Water Service Area | North Carolina |
| City of Raleigh Water Leakage | 919-996-3245 |
Read Also: Greensboro Water Bill Pay Online

FAQs:
Q: What payment methods are accepted for utility bill payments in Raleigh?
A: You can pay your utility bill in Raleigh using Amazon Pay, Visa, Mastercard, American Express, Discover, E-check, Venmo, PayPal, and PayPal credit, offering a range of convenient options.
Q: Can I set up recurring payments for my utility bills in Raleigh?
A: Yes, you can enroll in AutoPay, which allows for recurring bank drafts or automatic credit card payments. It ensures timely payments and eliminates late fees.
Q: Are there any fees associated with AutoPay for utility bills in Raleigh?
A: AutoPay is free, with no additional processing costs, making it a cost-effective and convenient payment option.
Q: What if I need assistance with my utility bill or require more time to pay?
A: The City of Raleigh offers assistance programs and payment plans. Contact customer service at customercare@raleighnc.gov for help in managing your utility bills effectively.
Wrapping Up
With these multiple payment options, the City of Raleigh makes it easy for residents to pay their bills. Whether you pay online, set up AutoPay, pay by phone, mail your payment, or visit an official payment location, you can choose the method that suits your needs and preferences. Customers can now pay their bills from the comfort of their homes. I hope, after reading this article, you'll be able to pay your bills quickly. Thank you for reading this article. Please share with others.