Are you fed up with the hassle of paying your Evergy energy bill on time? Do you never want to miss a payment? With online Evergy bill pay, you can quickly pay your bill anywhere, anytime. Evergy provides various bill payment solutions for its customer's betterment. In this blog, we'll discuss your queries about Evergy bill pay, like, Evergy bill pay as guest, Evergy bill pay app, Evergy login, Evergy speedpay, pay Evergy bill by phone, Evergy customer service pay bill, Evergy phone number, and pay Evergy bill with credit card.
Evergy Bill Pay Online Through Official Web Portal
By creating an Evergy Energy account on their official website, you can easily manage your account 24/7. Access Evergy account is straightforward and secure. You can view your energy bills and manage your account information. If you want to Sign up for Autopay to ensure on-time bill payment, you can directly Sign up from this account. You can contact Evergy's customer service representative directly from your Evergy account. Furthermore, you can manage your bill payments, track your s\daily usage, and view payment history.
Evergy Login Process
Visit the Evergy official website and click the login button. You can find it in the top-right corner of the landing page. Provide your username/password and click the Login button. If you already have an account and have forgotten your credentials, click the Recovery button, as shown in the image below. Follow the provided instruction to recover your password. And if you are a new Evergy customer and want to create a new account, click the register button and provide your information.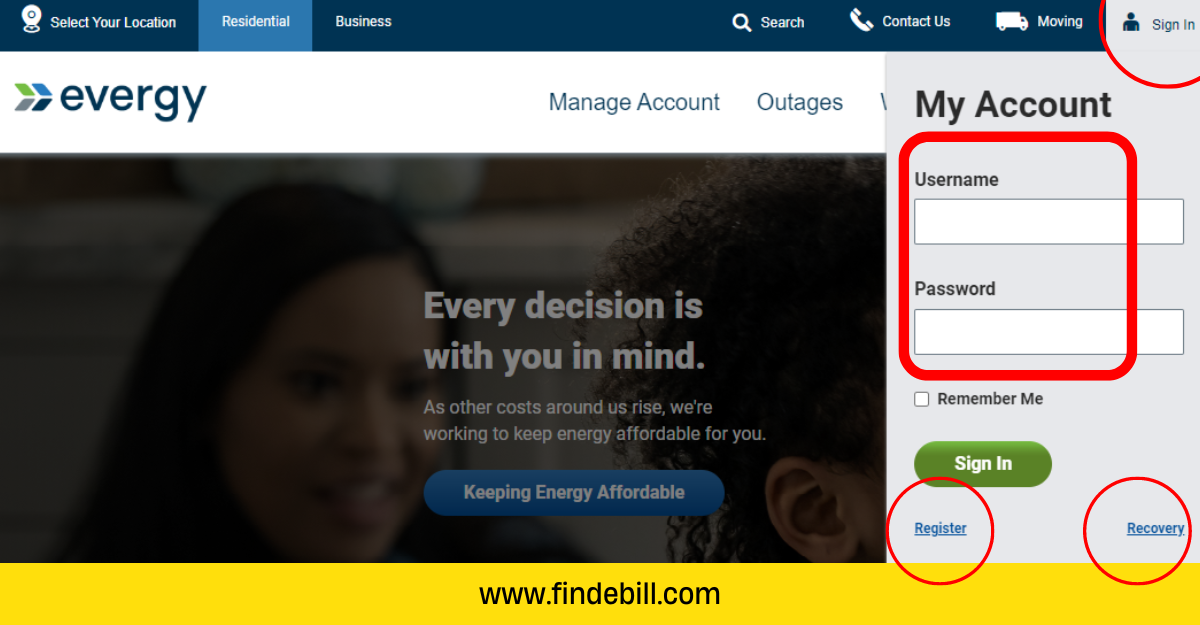 Pay Evergy Bill By Phone
Evergy customers have the choice to pay their utility bills by phone. Call Evergy customer service at 800-383-1183 (Kansas Central) and 888-471-5275 (Kansas Metro, Missouri Metro, and Missouri West). Follow the automated instruction, and pay using a credit/debit card.
Evergy Bill Pay Online By Mail
Mail your Evergy bill payment to the address listed on the payment stub of your energy bill. Ensure to include your account number on your check or money order. Payment in cash is not accepted by mail. Send your Payments to,
P.O. Box 419353. Kansas City, MO 64141-6353.
Evergy Bill AutoPay
If you want to get rid of paying your Evergy bill every month, enroll in Evergy Bill AutoPay. Sign into your account by clicking this link to enroll in Evergy Autopay. Evergy will automatically deduct your bill amount from your provided. You can also get a soft copy of your bill by email. You don't need to worry about delays and late fee hassles.
Evergy Bill Pay In Person
You can pay Evergy's bills in person by visiting the company's payment centers. Customers can visit the Evergy website to find the nearest payment center. You can also find payment locations by clicking this link. Please provide your bill copy to the Evergy customer care representative to process the payment.
Company Overview – Evergy
Evergy provides electricity to 1.6 million customers in Kansas. The company is headquartered in Kansas City, Missouri. Evergy delivers reliable and sustainable energy through its generating plants, transmission systems, and distribution networks.
| | |
| --- | --- |
| Evergy Official Website | https://www.evergy.com |
| Category | Utilities |
| Evergy Phone Number | |
| Evergy Customer Care | |
| Social Media Links | Facebook – Twitter |
| H.Q. Location | 1200 Main St Kansas City, MO  64105 |
| Service | Electricity |
| Service Area | Kansas Missouri, |
| Report Power Outage. | 888-544-4852 |
| YouTube Channel | |
Evergy Mobile Applications
The Evergy mobile applications are available for iOS and Android Platforms. Through this App, Evergy customers access account information, manage bill payments, track daily consumption, and more. Customers can also access outages, emergency information, and special offers.
FAQs – Evergy Bill Pay Online
Q. Where can I pay my Evergy bill?
A. You can pay your Evergy bill through Evergy's official website, by mail, by phone, and by visiting Evergy authorized payment location.
Q. Where can I pay my Evergy bill in person?
A. You can pay Evergy's bill in person by visiting Evrgy payment locations.
Q. Can I pay Evergy's bill with credit card?
Yes, You can pay your bill using a credit card.
Q. How can I download the Evergy bill pay app?
A. You can download Evergy Mobile App from App Store and Google Play Store.
Wrapping Up
Finally, Everji provides customers with various options to pay their bills. They can pay through their app, as a guest, by credit card, phone, or by using Speedpay. If you need more information, visit Evergy's website, download the app, or contact their customer service line at 800-383-1183 to pay their bill. If you want to know more about Evergy Bill Pay Online, write us in the comment section. Share this content if you found it informative and helpful. Thanks