We are going to discuss Goldsboro Water bill pay online in detail. Companies nowadays not only focus on the quality of the water management services but also on making the payment methods easy. Payment of bills associated with consumption is a hectic concern for the Customers. However, with the different options for bill payment, one can streamline their expenditures. In this article, we'll discuss the methods offered by the water department Goldsboro NC. So please read the whole article for comprehensive details.
Pay Goldsboro Utility Bill Online
You can pay your Goldsboro Water bill in one step by visiting the online portal of the Goldsboro official website. Go to the online portal. Provide the following details
Select the service type
Enter your account number
last 4 digits of your phone
By pressing the submit button, you'll be directed to the landing page, where you can see your balance and further instructions regarding payment. Complete the form and confirm the payment. Please remember that the payment you made here will be final. And you don't need to navigate for options. You can pay with MasterCard, Discover, or Visa. To get personal assistance, call the city of Goldsboro phone number 919-580-4340.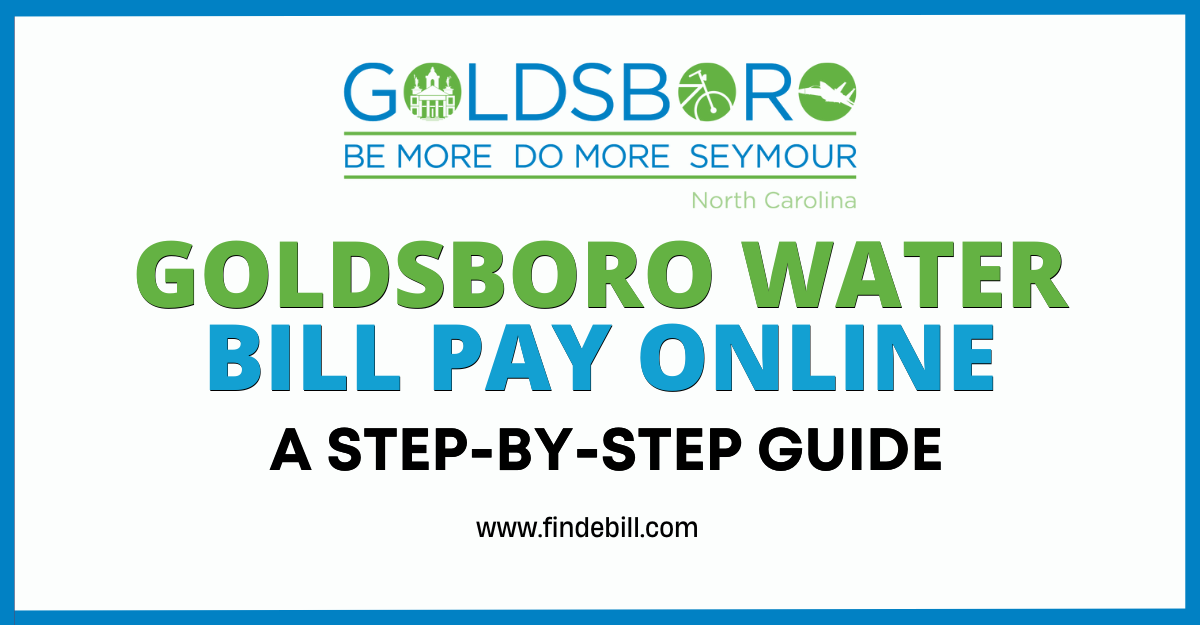 City Goldsboro Pay Water Bill
Customers can pay their bills by setting the bank draft. This method lets you pay your bill from your online bank account. First, you must sign up for the bank draft and set the Goldsboro Water Company as a payee. You can download this form and fill it out accordingly. For more guidance, please call Goldsboro Water bill customer service at 919-580-4340,
City of Goldsboro Water Bill Pay by Mail
Customers who want to pay their bills traditionally can send their bill stub and check to the address below. Ensure that you have written the correct account information.
PO Box 88, Goldsboro, NC 27533
Goldsboro Water Bill Payment In Person
Customers can pay their bills by physically visiting the below-mentioned location. Pay your bill with face-to-face interaction. Bring your bill for the posting of the correct amount. Accepted payment options are Mastercard, Visa, and Discover.
Water Department,
 200 North Center Street, City Hall Addition
Bill Payment at Dropbox
Yes, a secure Dropbox is also installed at the front door of the main building, i.e., City Hall Addition. Please don't put any cash in the dropbox. Here, you can drop your payments outside of regular office hours.
Currently, the company is not accepting payment on the phone.
Company Overview: Goldsboro Water

| | |
| --- | --- |
| Official Website | |
| Category | Utilities |
| City of Goldsboro Water Department phone number | 919-580-4362 |
| Goldsboro Water customer service | 919-580-4340 |
| Social Media Links | Goldsboro Water On Twitter |
| Goldsboro Water Headquarters Address | 200 North Center Street, Goldsboro, NC 27530 |
| Goldsboro Water services | Water & Sewer |
| Goldsboro Water Service Area Map | North Carolina |
| Goldsboro Water Emergency | 919-580-4340 |
Read Also: Hillsborough County Water Bill Pay Online
FAQs: Goldsboro Water Bill Pay Online
Q: What is the phone number for Goldsboro City?
A: The main phone number for the City of Goldsboro, NC is typically 919-580-4362.
Q: What county is Goldsboro NC, in?
A: Goldsboro, NC, is located in Wayne County.
Wrapping Up
In this article, we have discussed the various aspects of Goldsboro Water Company's payment options. Apart from we have also discussed the benefits and features of all methods. Now, customers can pay water bills online or by other efficient methods. Once again, thank you for reading this article throughout the end. You can share it with others.