This article will discuss the Haines City Water bill pay online. Haines City Water Department made its water bill payments flexible and convenient. It offers a range of payment options that fulfill the needs and preferences of the customers. Whether they are tech-savvy and prefer online payments or traditional mail. One of the best features is the provision of TTY service for the hearing impaired. You can discover a step-by-step guide for each payment method in this article. So stay with me and read the complete article for a clear understanding.
Haines City Water Bill Payment Online
Customers can pay their bills via the online portal and receive an instant receipt. This option is for those who don't want to leave their comfort zone. You must create your account by visiting the official Haines City Water Website. Complete the signup process by providing your credentials.
Haines City Login
Account Access Instructions if you already have an online account. 
Accessing your account and making bill payments is an easy process. You'll need your account number and address number for login. Your account number is already written on your utility bill, and your mailing address is your default password. If you're new to this process, the following example will guide you on how to proceed.
Account NameMailing AddressAccount NumberLog in with
| Account Name | Mailing Address | Account Number | Log in with |
| --- | --- | --- | --- |
| Jane Doe | 123 Elm Street | 98765 | Account Number – 98765, Password – 123 |
With your online account, you can get multiple benefits. You can view and pay your bill from anywhere at any time. Customers can view Haines City water bill history and make their budget accordingly.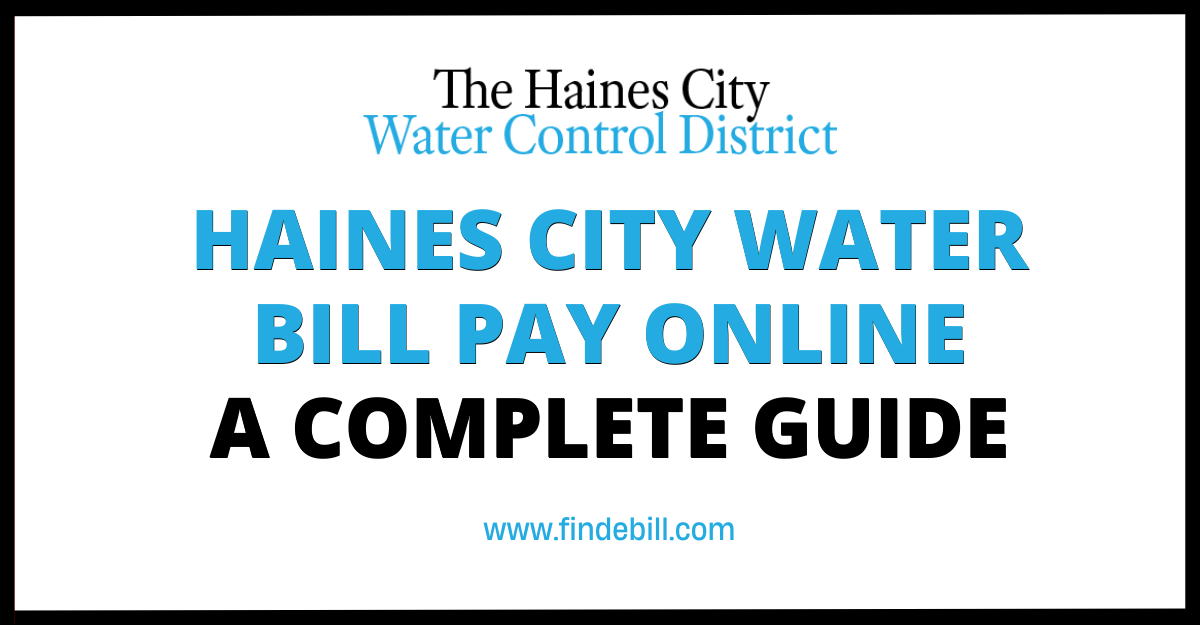 Haines City Water One Time Payment
Customers can pay their bills without logging in to their account or even creating the one, by one-time payment method. You'll have required your utility PayID. 
Haines City Water Bill Autopay.
Customers can set their payments on Autopay by filling out the DAF (Debit authorization form). Or also you can contact 863-421-3600 for instant guidance. The company will deduct their payment automatically on the scheduled dates through these methods.
Haines City Water Bill Pay by Phone
Customers can pay their bills by dialing 888-891-6064 in the working hours. Follow the instructions. You can pay with a credit card or debit card.
Haines City Water Bill Payment by Mail
Customers can pay their bills by secure traditional mail. Enclose your bill stub and check or money order in the envelope and send it to this address.
City of Haines City
Attn: Utility Billing
620 E Main Street
Haines City, FL 33844 to 4222
Write your Hainess City Water account number on the check/money order so your bill can be posted accurately.
Haines Water Bill Payment in Person
If you want to pay your bill in person, you can physically visit the below-mentioned location. With the ease of face-to-face interaction, you can pay your bill and get an instant receipt on the spot. You can pay at the Amscot Store, which is open 24/7.
35938 US-27 Haines City, FL 33844
Remember to bring your bill with you to post an accurate bill.
Water Utility Bill Payment at Dropbox
If you want to avoid meeting anybody while visiting in person, you can drop your payments in the secure drop boxes installed at the address.
Left side of the 

City Hall double doors, facing the library

.

Haines City Police Department,

 located outside of their entrance
Pay with a check or money order with the mentioned account number. Don't put any cash in Dropbox.
Haines City Pay My Bill by TTY
"TTY" stands for "Teletypewriter." It is a telecommunications device people with hearing or speech impairments use to communicate over the phone or through text-based communication.
Individuals who use TTY devices can pay the bill by phone through a service accessible to them. This service likely includes a TTY-compatible phone line or interface, enabling people with hearing or speech disabilities to conduct transactions and communicate with the utility company using text-based communication instead of spoken words. This accommodation ensures equal access to services for all customers, including those with disabilities.
Company Overview Haines City Water

Official Website
https://www.hainescity.com/
Category
Utility

Haines City Water Bill Phone Number

863-421-3600

Haines City Water Customer Service

863-421-3600
Social Media Links
Haines City Water Facebook  – Follow on Youtube – Follow On Twitter
Haines City Water Headquarters Address

620 E Main St,

Haines City

, 

FL

  

33844

Haines City Water services
Water & Sewer
Haines City Water Service Area
Florida
Haines City Water Emergency
863-421-3600
Read Also: Toho Water Bill Pay Online

FAQs: Haines City Water Bill Pay Online
Q: How can I pay my Haines City Water bill online?
A: You can pay your Haines City Water bill online by visiting the official Haines City Water website and creating an account. Use your account number and mailing address as the default password.
Q: Is there an option for automatic bill payments?
A: You can set up automatic bill payments by filling out the Debit Authorization Form (DAF) or contacting 863-421-3600 for guidance.
Q: What are the payment options for Haines City Water bills by phone?
A: To pay your bill by phone, dial 888-891-6064 during business hours and follow the instructions. Credit and debit cards are accepted.
Q: Where can I make an in-person payment for my Haines City Water bill?
A: You can make in-person payments at the 24/7 Amscot Store at 35938 US-27 Haines City, FL 33844. Don't forget to bring your bill with you for accuracy.
Wrapping Up
In this article, we have discussed the bill payment options offered by the Haines City Water Authority. Each payment method offers residents of Haines City different ways to conveniently and safely pay their utility bills, whether through online payments, in-person, or by traditional mail. Be sure to follow the step-by-step guide in this article for accurate payment. Thank you for reading this article till the end. Please share with others.