In this article, we have discussed Nashville Metro Water bill pay. Nashville Metro Water Company has introduced a convenient and user-friendly bill payment system to meet customers' expectations. There are a variety of payment options. Customers can access their accounts and make payments from anywhere through Metro Water's online payment portal. In this article, we have discussed all payment options with step-by-step procedures. So please read the article thoroughly for more understanding.
Nashville metro water bill payment online
Nashville Metro Water has a modern online payment portal, which has a variety of features. Online payments are versatile tools for managing the payment. I have described some benefits below.
Customers can easily check their account balance and access billing information, including bill images from the last 12 months.
View your payment history and track your water consumption.
You'll have access to common frequently asked questions.
Access Levels
Nashville Metro Water provides three distinct levels of access to cater to different customer needs and preferences:
| Access Level | Features | Registration Required |
| --- | --- | --- |
| Premium Access | – Register for e-bills – Create service requests – Enroll in recurring payment plans- Manage account profiles | Yes |
| Standard Access | – Check account balance- Make payments – Access billing and usage histories | No |
| Landlord Access | – Access account numbers – View service addresses – Access payment links | No |
To access your online account, you must log in or create one if you don't have any. To create the account, you have to complete the signup process by providing these two kind of detail
Login detail
Personal Information
For login details, you have to provide
User Name
Password
Confirm Password
and Security Question
Metro Water Nashville Login
After creating the account, you can log in by providing User Name and Password. With your Metro Water online payment portal, you'll have multiple options to pay with.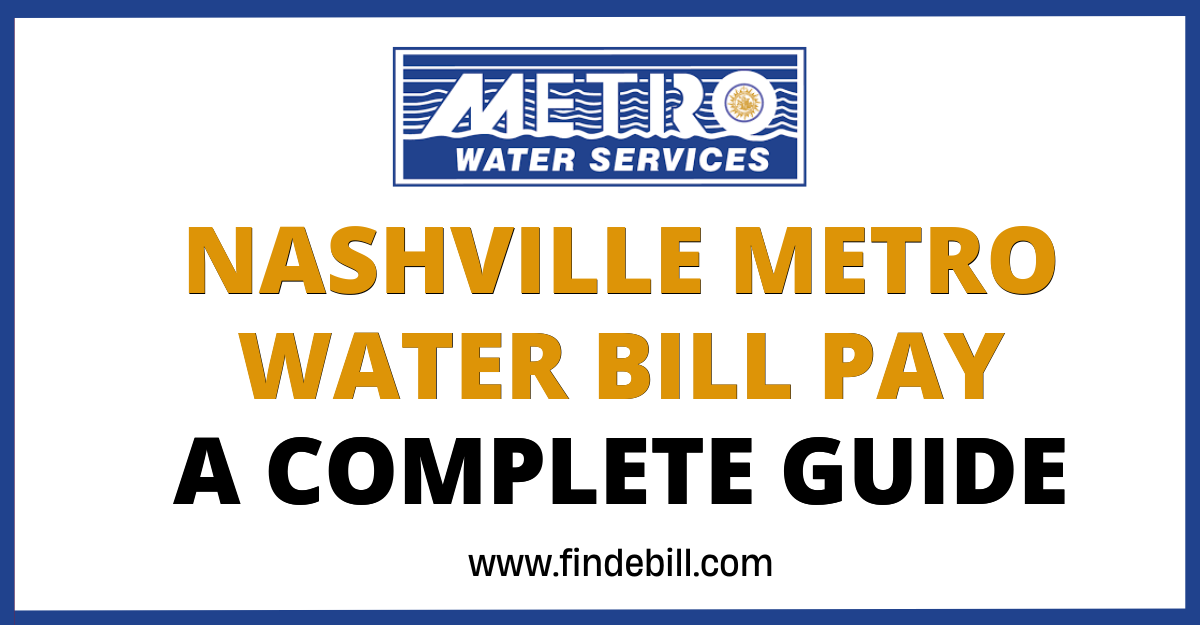 Metro Water Bill Pay Online Autopay
Customers can set up an autopay system to deduct their payments from their accounts on due dates. You don't have to worry about missing out on the due dates. No manual efforts will be required for bill payment.
Save Payment Information: Store your payment details securely for future use.
Schedule Payments: Set up future payments to ensure your bills are always paid on time.
Receive Text Message Billing Alerts: Stay informed about your bills with text message alerts.
Pay by Text: Make payments through a simple text message.
Pay by Digital Wallet: Utilize digital wallets like Apple Pay, Google Pay, Venmo, and PayPal for hassle-free payments.
Alternative Payment Methods
In addition to Online Bill Pay, Nashville Metro Water offers alternative payment methods to accommodate different preferences:
A simple PDF guide is attached for your guidance.
Nashville Metro Water Bill Pay by Phone
Customers can pay their bills by dialing 615-862-4600. This will direct you to the automated calling system. This option allows you to pay your bill using VISA or MasterCard, obtain account information, and find payment locations and office hours.
Metro Water Payment Online Nashville by Bank Draft
Customers can pay their bills by authorizing bank drafts. Payments are deducted from your account 15 days after the billing date. To enroll in this service, you must have an account with a financial institution offering Automated Clearing House services. You must add your utility company as a Payee to your online account. You have to fill out this form for further proceeding.
Pay My Water Bill Online by Mail
Customer who wants to pay more traditionally can send their payment through the mail. Enclose your bill stub and a check or money order in the envelope and send it to this address.
Metro Water Services P.O. Box 305225 Nashville, TN 37230-5225
Metro Water Pay My Bill at Kiosk
Customers can pay their bills at the Kiosks installed at the Customer Care Center at 1700 Third Avenue North, where three bill pay kiosks are available, including one that operates 24/7. At these kiosks, you can pay with cash, checks, and all primary major cards.
Company Overview Nashville Metro Water

| | |
| --- | --- |
| Nashville Metro Water Official Website | https://www.nashville.gov/ |
| Category | Utilities |
| Nashville Metro Water Bill Pay Phone Number | 615-862-4600 |
| Nashville Metro Water Customer Service |  615-862-4600 |
| Social Media Links | Nashville Metro Water Facebook  – Follow on Youtube – Follow On Twitter |
| Nashville Metro Water Headquarters Address | 1700 3rd Ave N, Nashville, TN 37208 |
| Nashville Metro Water Services | Water & Sewer |
| Nashville Metro Water Service Area | Tennessee |
| Nashville Metro Water Outages |  615-862-4600 |
Read Also: Atmos Energy Bill Pay Online: A Step-by-Step Guide

FAQs: Nashville Metro Water Bill Pay Online
Q: How do I pay my water bill in Nashville?
A: You can pay your water bill in Nashville with multiple options, including online payments, phone payments, bank drafts, mail, and payment kiosks.
Q: How much is an average water bill in Nashville?
A: The average water bill in Nashville can depend on usage and location. It ranges from $30 to $60 per month on Average.
Q: How do I turn on the water in Nashville?
A: To start the water in Nashville, contact the water utility provider for your area. They will guide you through the process, which usually involves submitting an application and paying any required fees.
Q: Who provides water in Nashville?
A: The Nashville Metro Water Services provides water services in Nashville.
Wrapping Up
In this article, we have discussed all the payment options Nashville Metro Water offers. To meet customers' expectations, the company has provided modern payment options, which enhance the user experience. Customers can pay from the comfort of their homes. There is an option for every kind of customer, from digital to traditional way. Thank you for reading this article patiently. Please share this article with others.