National Grid customers are welcome here; we will guide you through the National Grid Bill Pay Online system. We live in an era where technology has reshaped our way of living; National Grid also digitalized its billing system for the convenience of its customers. So, you're in the right place if you're a National Grid Customer and want to pay your bill online while sitting at your home or office. We'll guide you through the process of National Grid bill pay online in easy steps. Whether you're an old National Grid customer or just starting new services, we've got you covered. So, let's explore the world of National Grid online bill payments, saving you time and money and choosing the easiest bill payment method that suits you best.
National Grid Bill Pay Through Website
Customers can pay their bills through the web portal by creating an account. It is a fantastic service, and National Grid customers can benefit from it. Customers can,
Pay, View, and Download their bill.
Analyze Daily uses.
Set Up Autopay Service.
Receive Alerts by Text and Email.
Register a complaint
Pay with a checking or savings account.
National Grid Login (Electric)
You must visit the National Grid bill pay login page (
Electricity Consumers
) to get the above benefits. Provide your Email and password to access the National Grid web portal. If you are a new customer, you must create an online account by visiting this
page
. Provide your 10-digit National Grid account number to proceed. Gas Customers can visit the
National Grid Gas Login
page.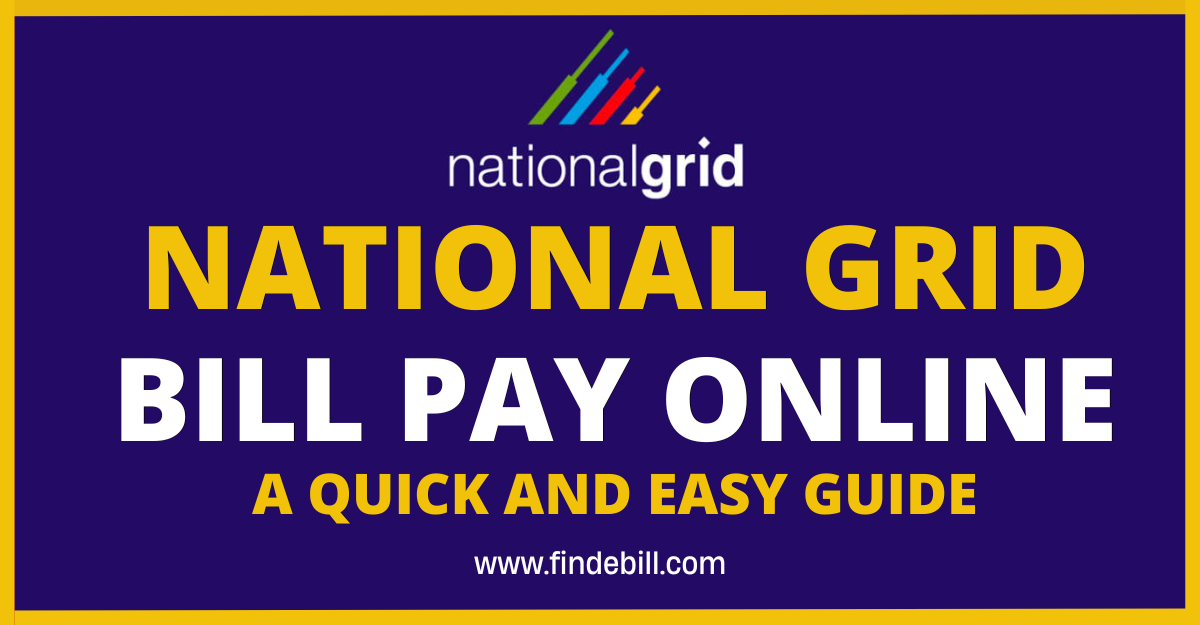 National Grid one-time payment
Customer can pay their bills without creating their account or without logging in to their account. By one-time payment method, you can pay your bill by providing.
National Grid Invoice Number
Four digits of your customer number
National Grid Bill Payment By Mail
Customers can pay their bills by mail. This is an old traditional way of correspondence. You must enclose your payment, i.e., check/ money order, along with your bill stub, and send it to this address.
National Grid P.O. Box 371376 Pittsburgh, PA 15250-7376
National Grid Pay by Phone
Customer can pay their bill with their smartphones by dialing 1-800-642-4272. You must have your 10-digit account with you to avoid any inconvenience. Follow the voice instructions and pay with any primary payment method. A fee will be applicable while paying through the bank.
National Grid Make a Payment in Person
If someone has insecurities with online payments or an internet issue, they can physically visit the authorized walk-in centers. With the enjoyment of face-to-face interaction, they can pay their bills and discuss their issue with instant response. Enter the ZIP code of your area and find your nearest local centers.
National Grid Bill Payment Online Autopay
By setting the autopay, you will allow your utility company they deduct their bill amount on the scheduled date monthly. In this way, you don't need to remember your due payment dates. There will be no worry of extra charges as a result of late payments.
National Grid Pay a Bill By Credit/Debit Card using Speedpay
Speedpay is collecting bill payments on behalf of National Grid. You can pay with your credit or debit cards through Speedpay. A starting fee of $1.75 (residential customers) and $5.95 (business customers) will be applicable.
Company Overview National Grid

| | |
| --- | --- |
| Official Website | https://www.fortworthtexas.gov/ |
| Category | Utilities |
| Gas South Phone Number | 817-392-1234 |
| Gas South Customer Service | MyWaterAccount@FortWorthTexas.gov |
| Social Media Links | Gas South Facebook Page –On Gas South LinkedIn –  On Gas South Twitter |
| Gas South Headquarters Address | 200 Texas St, Fort Worth, TX 76102 |
| Gas South services | Water & Sewer, Waste & Recycling |
| Gas South Service Area Map | Texas |
| Gas South Leak Emergency | 817-392-3000 |
Read Also: Henderson Water Bill Pay Online: A Step-by-Step Guide
FAQs: National Grid Bill Pay Online
Q: How can I pay my National Grid bill online?
A: You can pay your bill through the official website of National Grid. You can log in or create one if you don't have your account. There are multiple payment methods. Choose the one which suits you. Pay with your checking or savings account or debit or credit card.
Q: What is the fee for paying by credit or debit card through Speedpay?
A: Fees apply when using Speedpay to pay your National Grid bill with a credit or debit card. Residential customers may incur a starting fee of $1.75, while business customers might face a fee starting at $5.95.
Q: Can I make a one-time payment without creating an online account?
A: Yes, you can make a one-time payment to National Grid without creating an account. Simply provide your National Grid invoice number and the last four digits of your customer number when making the payment.
Q: How do I set up autopay for my National Grid bills?
A: Setting up autopay is easy. Log in to your National Grid account, select the payment options, and select autopay. This allows National Grid to automatically deduct your bill amount on the scheduled date each month, ensuring on-time payments and avoiding late charges.
Wrapping Up
While concluding the article, I am sure that I have incorporated all the details of payment methods offered by National Grid. We have also discussed the benefits and features of each method. Customer can pay their bills from the comfort of their home, even if they are traveling. You can pay at your convenience. Thank you for reading this article till the end. Please share with others.