In this article, we have discussed Northwestern Energy bill pay online. Technological innovation in human life has made things relatively easy for us. Earlier we had to stand in queues for hours to submit our bill. While Northwestern Energy has innovated in other areas, they have also done much in online bill payments. Northwestern Energy always provides need-based bill payment solutions because they know the needs of its consumer. Today, this blog will guide you on all payment solutions offered by Northwestern Energy. We also discuss your queries like the Northwestern Energy bill pay login, Northwestern Energy customer service, and Northwestern Energy login with the account number.
Northwestern Energy Pay Bill Online
Paying your bill online via Northwestern Energy's official website is the most secure and straightforward. It is just a five-minute process; for this, open your browser by clicking this link, myaccount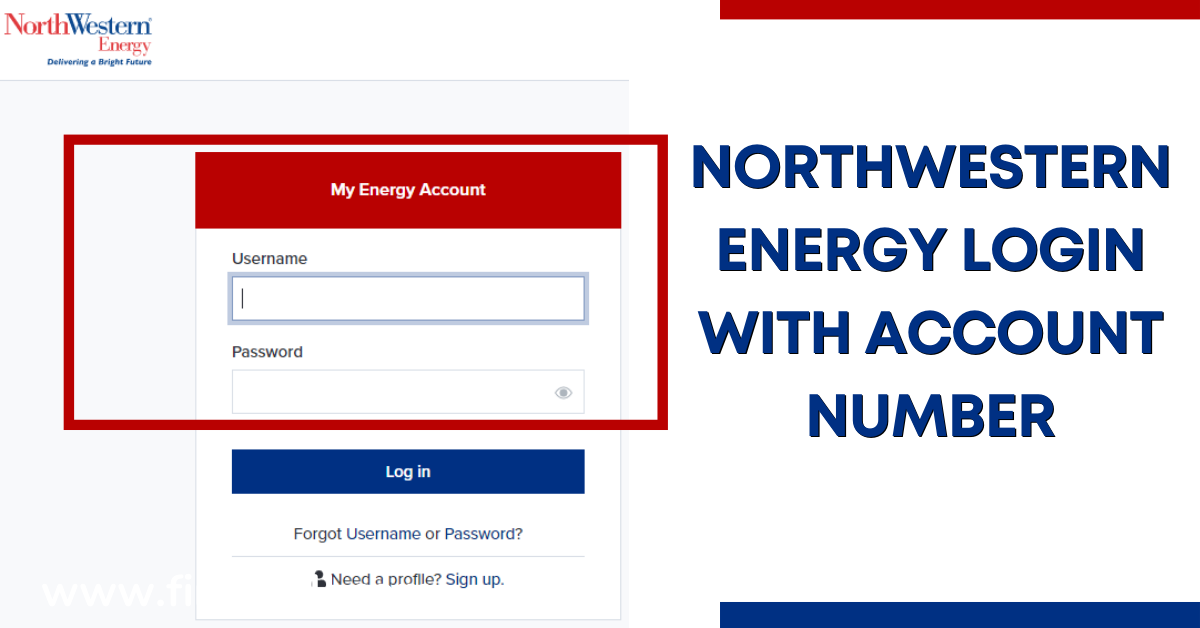 Provide your username and password. After signing in, you can manage, view, and pay your bill. This is a simple way to Northwestern Energy login. If you are not registered, click the Sign-up button and provide your account number, user name, and other information. Now press submit, and you will receive a confirmation email.
Northwestern Energy Bill Pay Online By Phone
If you don't want to go anywhere to pay your Northwestern Energy Bill, don't worry; you can pay it by phone. Dial Northwestern Energy at 888-467-2669 and follow the automated system instructions. Some Charges may apply. Before calling, you must have your bill and other information.
Northwestern Energy Bill Pay By Mail
Send your payments by mail to
Northwestern Energy 11 E. Park St. Butte, MT 59701-1711
You can send by money order or check; please write the address correctly.
Bill Pay in Person
You can come to our payment location to pay Northwestern Energy Bill. You can also pay your bill at your nearest Western Union outlet. To find Northwestern Energy's payment location, press this button.
Here are their Physical Location Addresses. Find the nearest one.
North Platte Office

215 E Fifth

North Platte, Nebraska 69101

Kearney Office

1023 E 25th St

Kearney, Nebraska 68847

Grand Island Office

612 S Webb Road

Grand Island, Nebraska 68803

Yankton Office

3210 Douglas Ave

Yankton, South Dakota 57078

Mitchell Office

300 S Burr St

Mitchell, South Dakota 57301

Huron Operations Center

600 Market Street W

Huron, South Dakota 57350

Brookings Office

1232 22nd Avenue South

Brookings, South Dakota 57006

Wagner Office

108 N Main

Wagner, South Dakota 57380

Kimball Office

121 S Main

Kimball, South Dakota 57355

Chamberlain Office

115 N Main

Chamberlain, South Dakota 57325

Aberdeen Office

113 S Centennial Street

Aberdeen, South Dakota 57401

Missoula Division Office

1903 S. Russell St.

Missoula, Montana 59806

Kalispell District Office

890 N. Meridian Rd.

Kalispell, Montana 59904-2888

Helena Division Office

1313 North Last Chance Gulch

Helena, Montana 59604

Great Falls Division Office

1501 N River Road

Great Falls, Montana 59414

Butte Division Office

400 Oxford St.

Butte, Montana 59701

Butte General Office

11 E. Park St.

Butte, Montana 59701-1711

Bozeman Division Office

121 East Griffin Drive

Bozeman, Montana 59771-0490

Billings Division Office

1944 Monad Road

Billings, Montana 59102

——————-

——————-
Northwestern Energy  Company Overview
Companies like Northwestern Energy have been providing state-of-the-art services in the United States. Northwestern Energy provides its customers with affordable, reliable, sustainable, and reasonable Natural Gas and electricity. The company served nearly 753,600 customers. The company has been providing its services for the past 100 years۔

| | |
| --- | --- |
| Northwestern Energy Official Website | https://www.northwesternenergy.com/ |
| Category | Utility |
| Northwestern Energy Bill Pay Phone Number | 888-467-2669 |
| Northwestern Energy Customer Service Number | 888-467-2669 |
| Customer Support Email | https://northwesternenergy.com/contact-us/ |
| Social Media Links | Facebook – Twitter |
| HQ Location | HQ Address 11 E Park St Butte, MT  59701 |
| Service | Electric, Gas |
| Service Area | South Dakota, Montana, and Nebraska |
| YouTube Channel | @NorthWesternEnergy1 |
| Report Gas Leaks/Emergencies | Montana 888- 467-2669, South Dakota 800-245-6977, Nebraska 800-245-6977 |
Northwestern Energy Opening Timing
Visit Northwestern Energy Office during the mentioned time to avoid any inconvenience.
| | |
| --- | --- |
| Monday | 9:30 AM to 5:30 PM |
| Tuesday | 9:30 AM to 5:30 PM |
| Wednesday | 9:30 AM to 5:30 PM |
| Thursday | 9:30 AM to 5:30 PM |
| Friday | 9:30 AM to 5:30 PM |
| Saturday | 9:30 AM to 12:30 PM |
| Sunday | Closed |
FAQs Northwestern Energy Bill Pay
Q. How can I pay Northwestern Energy Bill?
A. You can Pay your Northwestern Energy Bill by Phone, mail, online, Western Union, and in person.
Q. Who Owns Northwestern Energy?
A. NorthWestern Corporation owns Northwestern Energy.
Q. How can I get a duplicate copy of my Northwestern Energy?
A. You can get a duplicate copy of your Northwestern Energy bill by visiting their official website.
Q. How can I contact Northwestern Energy?
A. You can email them at https://northwesternenergy.com/contact-us/ or call 888-467-2669.
Q. How can I contact Northwestern Energy customer service?
Wrapping Up
You should know about your utility provider. It will help you to get more benefits from their services. Northwestern Energy cares for its customers and provides various services, including easily accessible and secure bill payment solutions. Now, Northwestern Energy online payments are very convenient to make. After reading this article, you can pay your gas and electric bills with your preferred payment gateway. Thank you for reading my blog; please share this if you find it interesting and informative.