NYSEG customers Welcome to my blog; we will explore the various convenient online NYSEG bill pay methods. Managing your NYSEG account is made easier with NYSEG user-friendly options. Now it is up to you Whether you prefer the hassle-free one-time payment or the convenience of NYSEG's automatic payments service. Do you need assistance or have queries about the online NYSEG pay bill? NYSEG's well-trained and professional customer service team is just a call away. You can manage your account details anytime through NYSEG login, view and download billing history, make online payments, or update your personal information. Stay with us, explore NYSEG bill pay online methods, and choose one that suits you best.
NYSEG Bill Pay Online Through Website
Paying your NYSEG bill online through their website is a quick, secure, and hassle-free way to manage your energy bill. Creating an account on the official NYSEG website allows you to access a user-friendly platform to handle your bill payments from the comfort of your home. After logging in to your account, you can quickly view your bill, track bill payment history, set up automatic payments and enrol in paperless billing. o, get all the above-listed benefits, visit. YSEG login bill pay page and provide your use ID and password. Or customers wanting to open a new online NSYEG account, click Register now and enter the required information.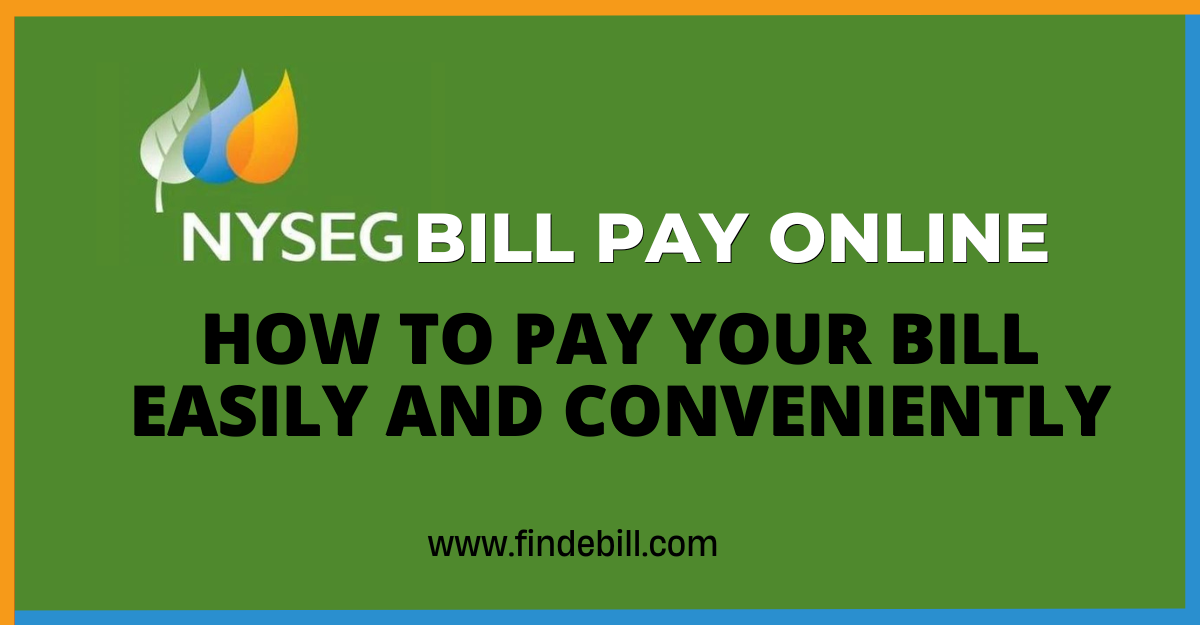 Pay NYSEG Bill By Phone
For the betterment of customers, NYSEG allows customers to pay their bills by Phone. Dial 800-600-2275, follow the automated system instruction, and press 2. f you need more assistance with this service, call NYSEG customer service at 800-572-1111.
NYSEG Online Bill Payment By Mail
You can send your bill payment traditionally by Mailing your bill payment with a check or money order to the following address,
NYSEG
P.O. Box 847812
Boston, MA 02284-7812
Make sure your NYSEG account number is on your check/Money order.
New York State Electric & Gas Bill Pay In-Person
You can visit an NYSEG-authorized payment location to make fast payments. Customers can visit Walmart or Kmart locations nationwide. You don't need to pay any convenience fee at these locations. Provide your NYSEG bill stub. You can also pay at CheckFree Pay. o, find the nearest location by visiting this link, pay agent locator and  Walmart or Kmart locations.
Western Union Payments
NYSEG collaborates with Western Union Pay to take NYSEG payments. Find Western Union agent locations near you by clicking this link.
NYSEG Walk-In Offices
NYSEG offices are Opening Hours
| | | | |
| --- | --- | --- | --- |
| Location | Address | Days | Hours |
| Auburn | 73 Wright Circle | Monday and Thursday | 9 a.m. – 3 p.m. |
| Binghamton | 4425 Old Vestal Road, Vestal | Monday – Friday | 9 a.m. – 3 p.m. |
| Brewster | Terravest Corporate Park, 35 Milan Road | Monday – Friday | 9 a.m. – 3 p.m. |
| Elmira | One Electric Parkway, Horseheads | Monday – Friday | 9 a.m. – 3 p.m. |
| Geneva | 152 Border City Road | Monday – Friday | 9 a.m. – 3 p.m. |
| Ithaca | 1387 Dryden Road | Monday and Thursday | 9 a.m. – 3 p.m. |
| Lockport | 6544 Lincoln Avenue | Monday through Friday | 9 a.m. – 3 p.m. |
| Oneonta | 65 Country Club Road | Monday and Thursday | 9 a.m. – 3 p.m. |
| Plattsburgh | 4125 Route 22 | Monday through Friday | 9 a.m. – 3 p.m. |
Payment Methods:  cash, check, or money order.
How to Pay NYSEG Bill Online As a Guest
If you are not interested in creating an NYSEG account, you can pay as a guest by visiting the NYSEG guest pay page. Provide your NYSEG account number and Service zip code to complete the payment process. You can make a call at 800-572-1111 for further information about this service. This service is also called Nyseg one-time payment.
NYSEG Bill Pay By Enrolling in AutoPay
This is a fantastic service. After enrolling in the AutoPay service, you don't need to buy stamps and envelopes. NYSEG will automatically deduct the billing amount from your provided Bank account on the due date. It is a quick, safe and secure bill payment method.
Company Overview – New York State Electric & Gas
Avangrid owns NYSEG and provides reliable and affordable electricity to 902,593 customers and natural Gas to 268,806 customers in 40% of New York.

Official Website
https://www.nyseg.com/
Category
Utilities
 NYSEG Phone Number
 NYSEG Customer Service Bill Pay

800-572-1111 –

custserv@nyseg.com

Social Media Links
Facebook – Follow On Twitter
NYSEG H.Q. Location

18 Link Dr Binghamton, NY  13904

Services
Electricity – Gas
NYSEG Service Area
New York
NYSEG Power Outage Map
800.572.1131
NYSEG Gas Emergency
800.572.1121
Also Read. Spark Energy Pay Bill Online
Pay Through NYSEG Mobile App
Through the NYSEG app, you can pay your bill anytime, anywhere and even on the Go.
Pay your bill with just a tap of your fingertip.
Access your NYSEG account with Touch or Face ID™. You can view, download, and pay your bill.
You can directly report a Power outage and access outage maps to stay updated through this App.
To get the download link of this App, Text 697348.
NYSEG Bill Pay FAQs
Q. Pay NYSEG With a Credit Card?
A. Customers can pay their monthly NYSEG bill with a credit/debit card. Visit the Make A Payment page to pay through a Credit Card.
Q. Can I pay my Nyseg bill online?
A. you can pay online through the website, Mobile App, and Phone.
Q. Where can I pay my Nyseg bill in person?
A. You can Pay the NYSEG bill in-person at western union offices,walmart and Kmart.
Wrapping Up
NYSEG Bill Pay Online provide a convenient and secure way for its customers to pay their utility bills. With online payment methods, consumers can quickly pay their energy bills, saving time and effort. So, online bill payment is an intelligent choice, whether through NYSEG web-based payment or NYSEG mobile app. Keep visiting our site if you need more information about NYSEG bill payments. Thank you for reading. Please share it.