Ohio Edison bill pay online allows you to pay your bill while staying at your home or office. You can easily manage your bills and view your previous bill payment history. It is a time and money-saving bill payment method. This blog will guide you step-by-step about the Ohio Edison bill payment methods. We also answer your queries like, Ohio Edison bill payment solutions, how to pay bills by Ohio Edison one-time payment, Edison pay my bill over the Phone, and the Ohio Edison guest payment process. So, Stay with us.
Ohio Edison Bill Pay Online
We recommend you pay your bill online through their official website because their customer needs are better than others. It's a fast and secure online bill payment option. It gives customers the ability to manage their accounts online through the website. Customers can get alerts about power outages in their area and receive email and text alerts about the latest promotions and rebate programs. You can view and download your bills and analyze your daily usage to avoid extra billing. To get above mentioned benefits, you have to create an account.
Ohio Edison Login
If you are a new consumer of Ohio Edison, you must create an account for this visit, the Ohio Edison website. You will see the green "Register" button in the center of the page; click this button and enter your account number and zip code in the field mentioned on the page. Now click the Next button and provide the required detail to proceed registration process. For customers who have already created an account, click Ohio Edison Login to Sign in.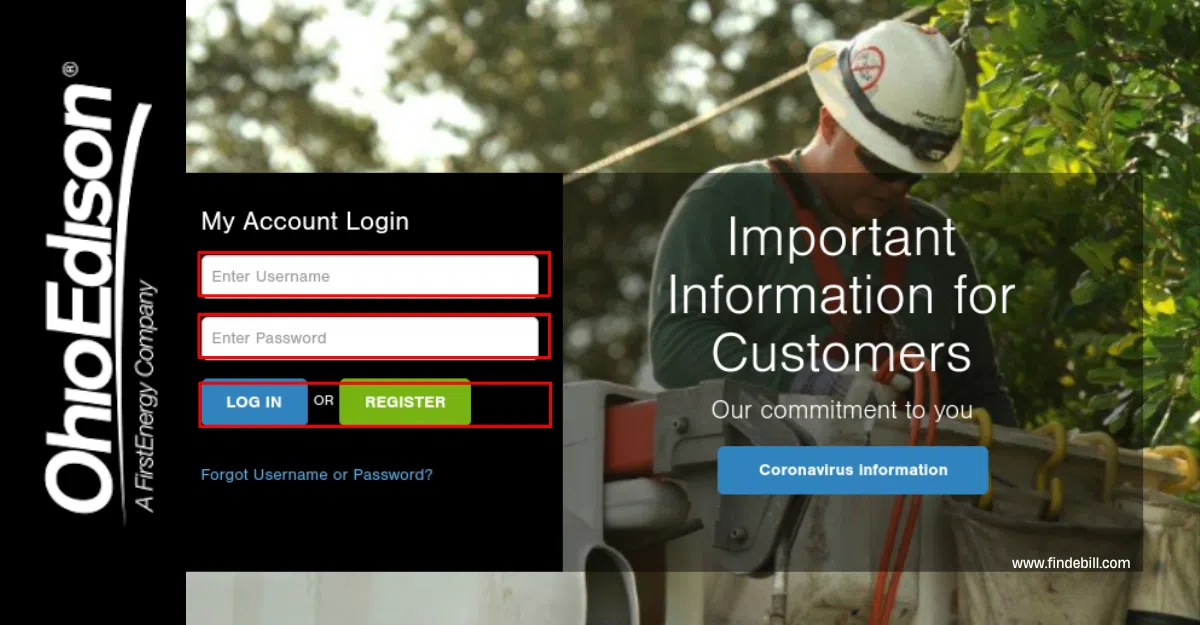 Ohio Edison Bill Pay By Phone
You can pay your bill by calling Ohio Edsen at 1-866-569-4770. You will listen to automated instructions and follow them to proceed with the payment process. Provide your Account number. Pay with a valid debit or credit card.
Ohio Edison Pay Bill By Mail
Customers have the option to pay their bill payments by mail. It is also a secure and reliable bill payment option for Ohio Edison customers. For this, customers need to send their bill payments to,
Ohio Edison, P.O. Box 3637, Akron, Ohio 44309-3637
Please include your account number on your money order/check and send it with a bill stub. Your mail must be reached at the address mentioned above seven days before the due date.
Ohio Edison One-Time Payment
If you are not interested in creating an account on Ohio Edison Website for bill payment, don't worry; you can pay your bill without logging in with a username/password. Make a one-time payment using bank draft, debit/credit cards, Apple Pay®, and Google Pay®. If you choose this payment mode, then Service fees apply. Here is Ohio Edison One-Time Payment link.
Company Overview -Ohio Edison
Ohio Edison was Founded in 1930 and is a subsidiary company of FirstEnergy, and Ohio Edison merged with FirstEnergy in 1997. Ohio Edison serves electricity utility over one million customers in Ohio.

| | |
| --- | --- |
| Official Website Ohio Edison | https://www.firstenergycorp.com/log_in.html |
| Category | Utilities |
| Ohio Edison Phone Number | 800-633-4766 |
| Ohio Edison Customer Service | 800-633-4766 – service@summerenergy.com |
| Ohio EdisonSocial Media Links | Facebook – Twitter |
| Ohio Edison H.Q. Location | 76 S Main St Akron, OH  44308 |
| Service Area | Electricity |
| Ohio Edison Service Area | Ohio |
| Ohio Edison Power Outage Report | 888-544-4877 |
| Ohio Edison Youtube Channel | @FirstEnergyTV |
Also Read:- Summer Energy Bill Pay Online | Summer Energy Login
FAQs – Pay Electric Bill Ohio Edison
Q. How do I report a power outage to Edison, Ohio?
A. Call 888-544-4877 to report a power outage or visit this link.
Q. How can I pay my Ohio Edison bill?
A. You can pay your bill online through the website by calling Ohio Edison at 1-866-569-4770. Or mail your payment to Ohio Edison, P.O. Box 3637, Akron, Ohio 44309-3637
Q. How can I contact Ohio Edison customer care?
A. Customer can contact by calling 800-633-4766.
Q. What is the phone number for First Energy Ohio?
A. If you need to talk to First Energy Ohio, call 1-888-544-4877.
Q. Can I pay my Edison bill by Phone?
A. yes, you can pay over the Phone by dialing 1-866-569-4770.
Q. Where is Ohio Edison's headquarters located?
A. You can visit Ohio Edison's Main office at 76 S Main St, Akron, OH  44308.
Wrapping Up
We have tried to guide you through the Ohio Edison Bill Pay Online system and provide information about all the available ways to pay the Ohio Edison bill online. Here at this website, we welcome you. If you want to know more about Ohio Edison, please write in the comment area below. Sharing is caring, and I would be grateful if you shared my content. Thank you for reading.