In this article, we will discuss the Palm Beach County water bill. Customers prefer an easy and safe bill payment method in this fast era. Keeping in view this demand of customers, all companies are making their payment portals modern. PBC has also updated its payment portal by incorporating all online and offline methods, including the safety of online payments to traditional mail systems. In this article, we have given a thorough detail about each option. We have also discussed the features and benefits. So, for a complete understanding, read this article.
Palm Beach County Water Bill Payment Online
Online payments nowadays are one of the easiest ways to pay your bills. With an online account, customers can pay their bills 24/7 on their smartphones. To avail of this facility, you must log in to your online portal by your account. If you don't have one, create one. Many benefits are associated with online accounts.
You can view and pay your bills
You can choose paperless bills
Have access to your bill history. This will help you manage your expected expenditures.
Acceptable payment methods are MasterCard, Visa, and American Express.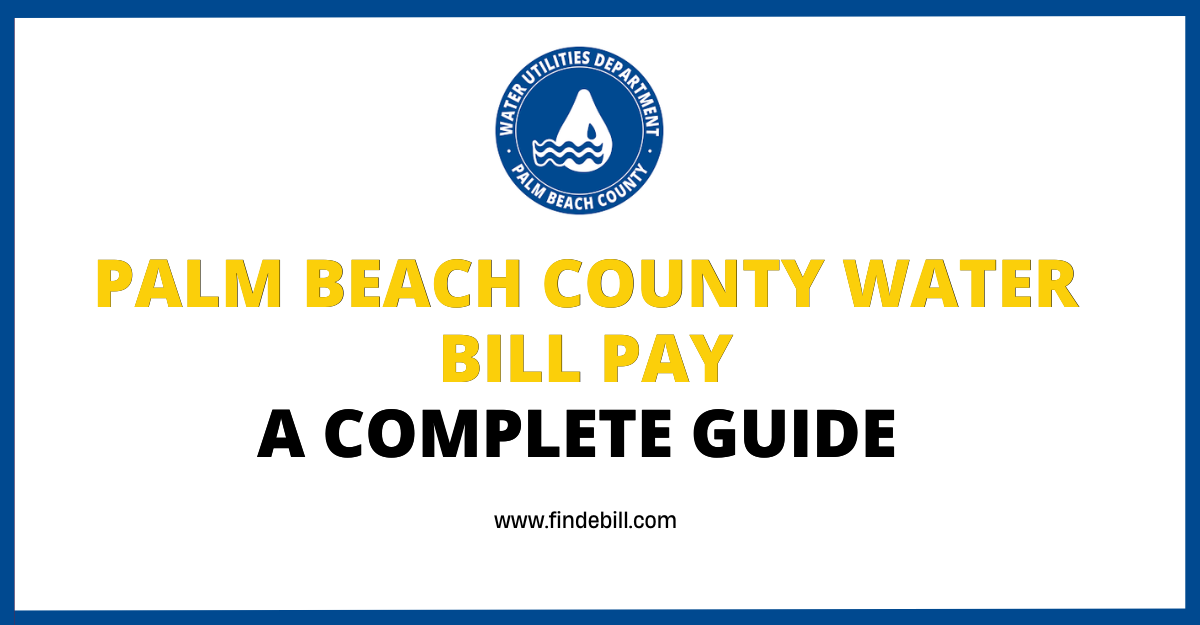 Palm Beach County Signup
To create your account, you must complete the signup process by providing the following information.
Account number
Id (on your bill)
Mailing address zip code
Now press the Continue tab for further procedure.
Palm Beach Water Login
Once you have created the account, you can log in to Palm Beach County Water Utilities Account by providing your Username and Password. Now, you can pay with multiple online methods with your online account.
PBW Bill Payment By Phone
Customers can also pay their bills by phone. Just dial 561-740-4600 or 877-477-1305 and follow the automatic voice instructions. You can pay with all primary payment methods. Keep your bill and payment information readily available to you.
Water Utility Bill Payment by Mail
Customers can pay their bills by the traditional mail system. Enclose the bill stub and check or money order in the returning envelop and send it to the
9045 Jog Road, Boynton Beach, Florida
Bill Pay By Bank Account
Customers can set their utility company as a Payee in their online bank account. It is recommended that you contact your bank and ask for the addition of the payee. You have to provide 10 digit account.
PBC Water Bill Pay In-Person
Customers can pay their bills through traditional methods by visiting the address below.
Department Customer Care Center 
9045 Jog Road, Boynton Beach,
and
2976 State Road 15, Belle Glade.
Bill payment at Dropbox
Customer can also drop their payments in  Dropbox without entering the main building. Dropboxes are installed at different locations (mentioned below). Visit before 9:00 AM for bill posting on the same day.
Company Overview Palm Beach County Water
| | |
| --- | --- |
| Palm Beach County Water Official Website | https://discover.pbcgov.org/ |
| Category | Utilities |
| Palm Beach County Water Bill Pay Phone Number | |
| Customer Service | |
| Palm Beach County Water Social Media Links | Palm Beach County Water Facebook– Follow on Youtube – Follow on Twitter |
| Palm Beach County Water Headquarters Address | 2976 State Road 15, Belle Glade, Florida |
| Palm Beach County Water services | Water & Sewer |
| Palm Beach County Water Service Area | Florida |
| Palm Beach County Water Outages | 561-740-4600, option 1 |
Read Also: Cape Coral Water Bill Pay Online
Wrapping Up
In this article, we have discussed PBC  bill payment methods. A step-by-step guide for each payment method is incorporated in this article. All are included, from the convenience of online payments to phone payments. Customers can pay their bills from the comfort of their homes or even if they are driving. After reading this article, you can choose the best option per your flexibility. I hope Palm Beach customers get benefits from this article.