In the early days, you had to stand in long queues across banks to pay your electricity bill. But now technology changed our way of life. You can pay your monthly electricity bill while sitting in your home or working space. Yes, of course, it's now at your fingertips. With your Cell Phone and Laptop having an internet connection, you can pay bills online. And if you are not looking for How To Pay Electricity Bill Online In Pakistan, you are in the right place.
Pay Electricity Bill Online
Many Companies are providing online payment services in Pakistan. But, after COVID-19, People are more attracted to online payments. Now nearly all central banks, microfinance banks, and Mobile Wallets provide the facility to pay electricity bills online. So, we are here to discuss how to pay the electricity bills and get duplicate bill copies online. The question is why we choose online payment for paying your electricity bills.
Advantages of Online Bill Payment
There are many Advantages of online utility bill payments. Life has become busy nowadays, and People don't have time. We can save time with online payments. Earlier, we had to wait hours outside banks in extreme heat and cold to deposit bills, which used to waste much of our time. Now you can pay your electricity bill online via cell phone, Laptop, etc. You don't need to keep the money with you while making an online payment. That's why online payment is a safe and secure payment method. Online payment is environmentally beneficial.
Pay your electricity bill online in Pakistan.
Many electricity power supply companies in our beloved country Pakistan are responsible for providing electricity services in their specific areas or regions. For example, (IESCO) the Islamabad Electric Supply, supplies electricity in Islamabad and the surrounding area, (LESCO) the Lahore Electric Supply Company, and others like MEPCO for Multan Area, SEPCO for Sukker Area HESCO, TESCO, QESCO, GEPCO, PESCO are responsible for supplying electric power in their area of services. For the ease of our readers, we'll explain in detail how to check your electricity bills online one by one through major electric power distributors.
How Can I Pay My IESCO Bill Online
IESCO was established in 1998 to provide electrical power in the Islamabad area. IESCO stands for Islamabad electric supply company. The new Name of IESCO is (AEB) Area of Electric Board. IESCO's service area is Islamabad, Rawalpindi, Jhelum, Chakwal, and Attock. Enter your IESCO 14-digit reference number to pay your IESCO.
Enter your IESCO reference number.
This is how you can find your Reference number on your IESCO bill copy.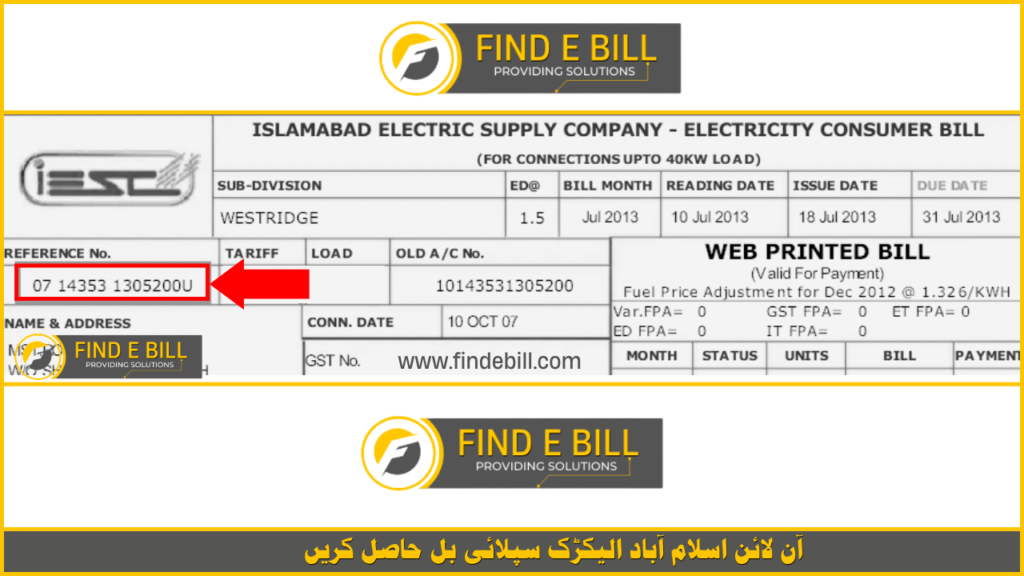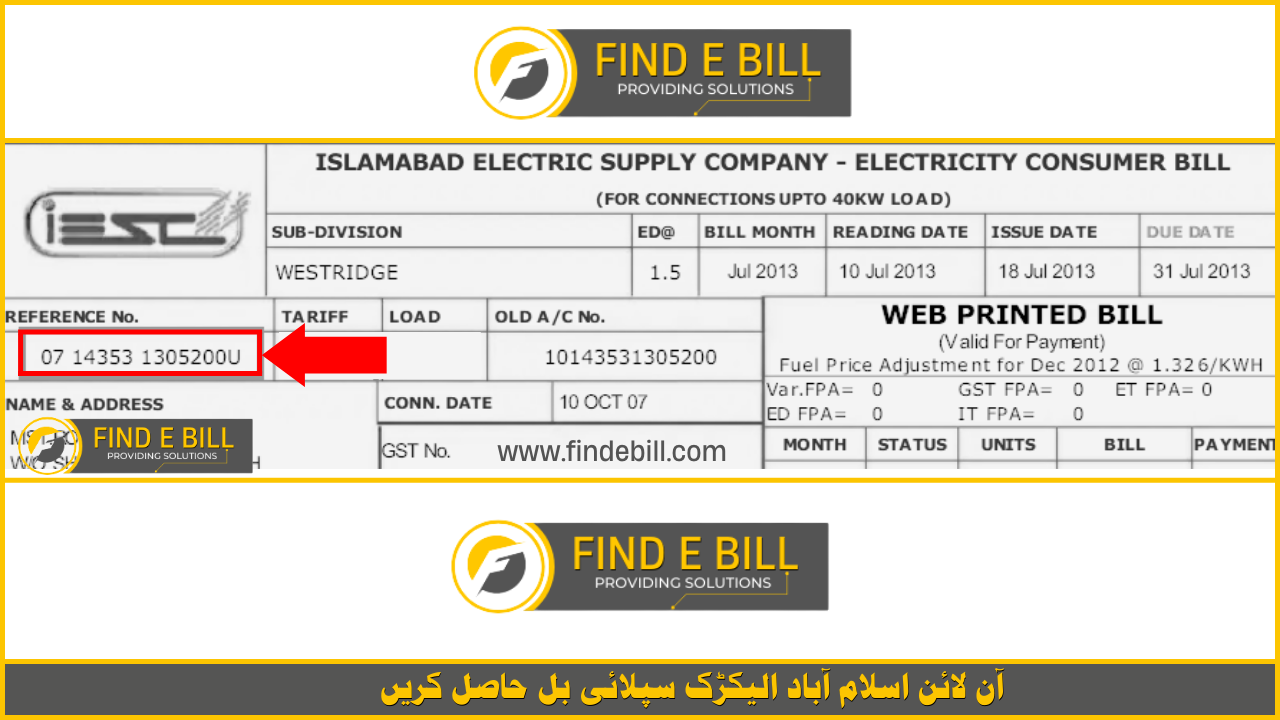 How Can I Check My MEPCO Bill Online
MEPCO stands for Multan electric power company. If you are a MEPCO consumer, enter 14 digit reference number to pay your MEPCO monthly electricity bill online.
Pay Your K-Electric Billy Online
Karachi Electric Supply Company is one of Pakistan's largest Electricity distributor companies. By providing your reference number, you can pay your KE bill.
Enter Your Reference Number and Pay Your Bill or Get a KE Duplicate Bill Copy
FESCO Online Bill Payment
Faisalabad Electric Supply company consumers can pay their electricity bills by providing their unique reference number.
Pay Your Electricity Bills via Banks
In Pakistan, nearly all banks provide an online bill payment option through their Mobile App. So if you are a bank account holder, it is easy for you to pay your electricity bill online via your Bank. The process is simple; you must install your Bank Mobile App from Google Play if you are an Android user. Most banks have both Android and iOS Applications. After installation, register yourself through your Bank credentials and log in. Click on the Utility bill option, then the Electricity bill option, and write your reference number to Pay your bill.
How to Pay Electricity Bill through Mobile Account
Many Microfinance banks are providing utility bills online payment services.
For instance,
Easypaisa by Telenor Microfinance Bank
Ufone Bank Powered by Ufone Pakistan
Jazz Cash by Mobilink
Paymax By Zong
UBL OMNI by UBL
NayaPay
The process is very straightforward. The first step is registering to open an account in your respected mobile wallet. All companies provide the facility to open an online account. Mobile wallets are low cash limit accounts. With a Wallet account, you can pay utility bills, Mobile Top-ups, Money transfers, and other facilities. All Mobile wallet companies have their Mobile Apps. Note:- If you are an Easy Paisa Account Holder, read our in-detail article on How to Pay Electricity Bills Online Through Easypaisa.Thank you for reading.