Want to Pay Property Tax Through Epay Punjab? We are here to guide you through all of your queries. The Finance Department of Punjab and the (PITB) present this joint venture ePay Punjab app, which allows you to pay your taxes easily using this mobile Application. We are here to give you a brief and detailed guideline for Epay App. After reading this, you will be able to pay your taxation payments.
Pay Property Tax Through Epay Punjab  And Other Taxes Detail
So far, you can pay your taxes digitally for about six different departments in Punjab, including the Excise and Taxation Department, with 14 taxes linked to the App. The complete list is available below:
Epay Punjab App provides the facility to pay your taxes online in about six different departments of Punjab. The excise and Taxation Department is also included. By This App, we can pay a total of 14 Taxes.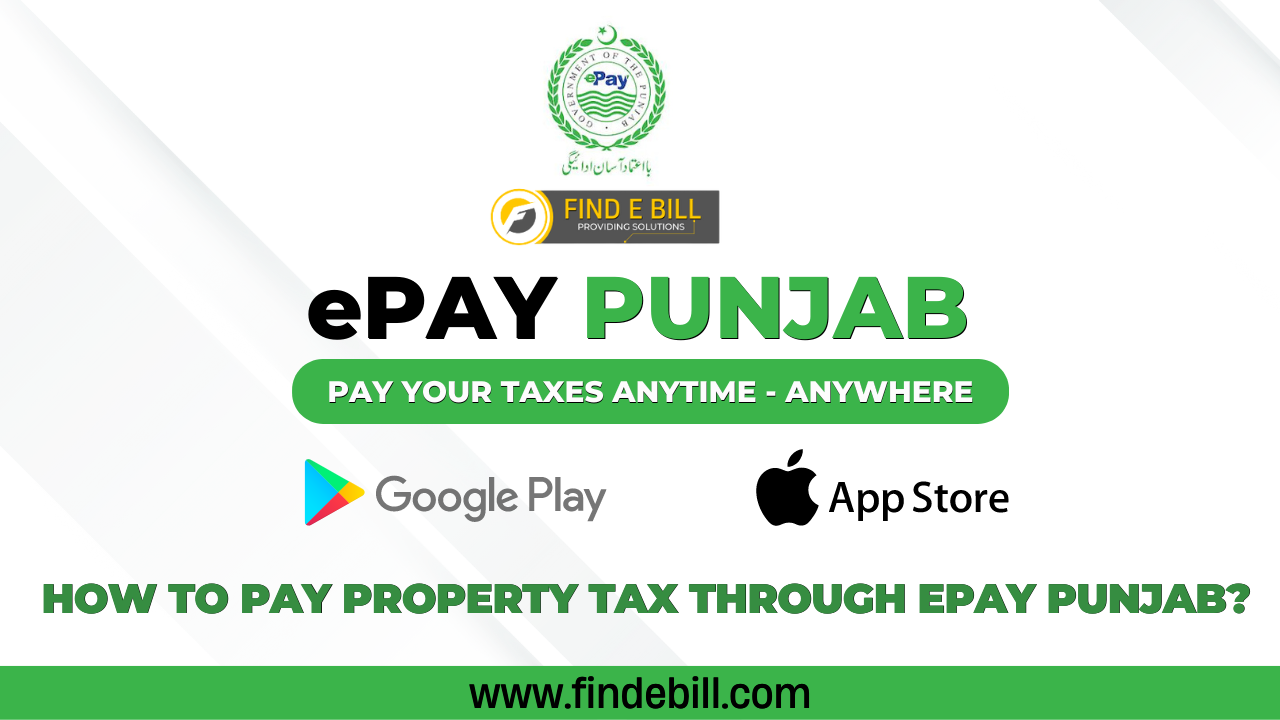 Department of Excise & Taxation Punjab
Taxes available:
Vehicle Token Tax
Registration of Motor Vehicle Tax
Transfer of Vehicle Tax
Property Tax
Professional Tax
Cotton Fee Tax
Board of Revenue Department (BOR)
Taxes available
E-Stamping tax
Mutation Fee Tax
Fard Fee
Punjab Revenue Authority Department (PRA)
Taxes available:
Sales Tax on Services
Punjab Infrastructural Development Cess Tax
Department Industries
Taxes available:
Business Registration Fee
Transport Department of Punjab
Taxes available
Department of Punjab Police
Taxes available:
A SHORT INTRODUCTION TO THE EPAY PUNJAB APP?
Punjab government and development of the Punjab Finance Department and the PITB Launched in October. The Epay App is available on both Apple and Google Play stores. The primary purpose of this Application is to facilitate the general public. They can pay taxes while sitting in their comfort zones. PITB's ePay App can also open on a laptop or computer through their web-based Application.
Benefits Of This App
Launching the App makes it easier for the government to collect revenue through taxes via an easy solution. The App shows how Pakistan and its government rapidly integrate financial technology (fintech) into its workings with Pakistan's first digital tax aggregator. This App is connected with the State Bank of Pakistan (SBP) using 1-link connectivity, and the App provides you the facility to pay 14 of their taxes via three payment methods. Before this, people had to stay in long queues at banks and government institutes to pay taxes.
HOW DOES THE EPAY APP WORK?
We'll now focus this guide for the ePay Punjab app on the usage of the App, the available payment methods, and details on the different taxes you can conveniently pay using PITB's ePay App.
MODES OF PAYMENTS?
There are three ways of payment provided by ePay Punjab.
Through Mobile Banking
Through Internet Banking
Through ATM
List Of Banks Mobile Wallets TO PAY YOUR DUES?
| | |
| --- | --- |
| No | Name of Bank |
| 1. | Summit Bank |
| 2. | Bank Alfalah |
| 3. | Dubai Islamic Bank |
| 4. | Sindh Bank |
| 5. | Askari Bank |
| 6. | Habib Metro Bank |
| 7. | Faysal Bank Limited |
| 8. | JS Bank |
| 9. | Allied Bank Limited |
| 10. | NRSP Microfinance Limited |
| 11. | Bank Islami |
| 12. | Samba Bank |
| 13. | Habib Bank Limited |
| 14. | Bank Of Punjab |
| 15. | National Bank of Pakistan |
| 16. | United Bank Limited |
| 17. | Bank Al Habib |
| 18. | Al Baraka Bank |
| 19. | Bank of Khyber |
| 20. | Meezan Bank |
| 21. | MCB-IB |
| 22. | Soneri Bank |
| 23. | MCB |
| 24. | Silk Bank |
| 25. | Standard Chartered Bank |
| 26. | FMFB Bank |
| 27. | Telenor Microfinance Bank |
| 28. | Apna Microfinance Bank |
| 29. | Khushhali Microfinance Bank |
| 30. | SME Bank |
| 31. | First Women Bank Limited |
| 32. | First Microfinance Bank |
| 33. | Citibank |
| 34. | FINCA Microfinance Bank |
Once you have a challan and a PSID, knowing which bank is connected to this service is essential to pay your taxes without further delays. Please read the three payment options.
Name of Bank
Mobile Banking
Internet Banking
ATM Payment
OTC Transaction
HOW TO PAY YOUR TAXES ONLINE Through EPAY?
Here we discuss how to pay taxes online. The process is so simple. Let's discuss this.
Step 1: Download and Install the App
Open your cell phone's Google Play Store or the App Store and install Punjab Epa Application.
Step 2: Open Your Account
After Installation, open the App and enter your credentials, like Your Name, Cell number, email address, and national identity card number.
Step 3: Receive a One-Time Password (OTP)
The App will send you One-Time Pass Word, called OTP, via SMS or email, on your mobile phone. You must put your OTP to log in to the App and pay your Taxes online.
Step 4: Select the Right Tax
Now, Select the correct department and select the right type of tax.
Step 5: Put Relevant Details
You need to provide some details to see your tax amount.
Step 6: Challan Generation
After providing your credentials, touch the 'Generate Challan' button to get your unique 17-digit Payment Slip Identification (PSID) number and its expiry date.
Step 7: Pay Your Tax
Use your nearest ATM, inter Bank Funds Transfer (IBFT), or 1-Link Member set Branches to pay your taxes using your PSID. Remember to pay the due taxes before your PSID expires date.
Remember: – You Can Select Language English and Urdu for your convenience.
SUCCESSFUL MILESTONE  OF THE EPAY PUNJAB APP
The ePay App is a massive breakthrough for the Punjab government. Punjab Govt collects nearly 500 Million in its early 100 days, increasing daily.
The Punjab Government and PITB plan to make this App more beneficial to the citizens. PITB plans to add more payment gateways, like Debit/Credit Card payments, Mobile Wallets, and Payment through TELCO Agent Networks.
The REASON WHY WE CHOOSE THE EPAY PUNJAB APP?
We have already written a brief step-by-step guide to use this App.
Let's overview THE RAS0N and WHY WE CHOOSE THE EPAY PUNJAB APP.
Time-saving,  you don't need to visit government offices physically.
Secure payment channel.
Easy to find and install Android, ios, and web-based ePay App.
Transparent procedures.
Touch and pay.
Also suitable for B2G and P2G payments.
Service is available all over Punjab.
Three payment options.
Provide payment OPTION OF 14 taxes in 6 departments.
All departments' list is available for the ease of citizens.
Wrapping Up
We present the above-detailed introduction to Punjab ePay App. Do we cover all aspects, like How to Pay Property Tax Through Epay Punjab? Let us know, and feel free to write us if you have any questions or want to know more about any topic related to Punjab ePay. If You are an Easypaisa customer and want to pay your utility bills through Easypaisa, please read our blog. How to Pay Electricity Bills Online Through Easypaisa. Thank you for reading.