This article will discuss the South Bend Water Bill pay online. In today's fast-paced world, companies constantly improve their payment methods to provide customers convenience and flexibility. South Bend Municipal Utilities is also on this list, offering a variety of ways for its customers to pay their bills. This comprehensive guide will walk you through all the available payment options, ensuring you have the information to make payments effortlessly. Whether you're looking to pay online, by phone, in person, or through other methods, we've got you covered. Keep reading to explore multiple payment choices for more clarity.
South Bend Water Bill Online Payment
With the arrival of an online payment portal, utility bills are no longer challenging to pay. All you have to do is create your online account by visiting the official website of South Bend Water. This online account will give you a secure and easy way to manage your payments. To create an account, complete the signup process by providing the following details.
LOGIN DETAILS
Username
Password
Confirm Password
Forgot Password Security Question
Forgot Password Security Answer
PERSONAL DETAILS
First Name
Last Name
Email Address
Confirm Email
Mobile Phone Number
Account Number
Telephone Number
By clicking the Register Now button, your account will be created.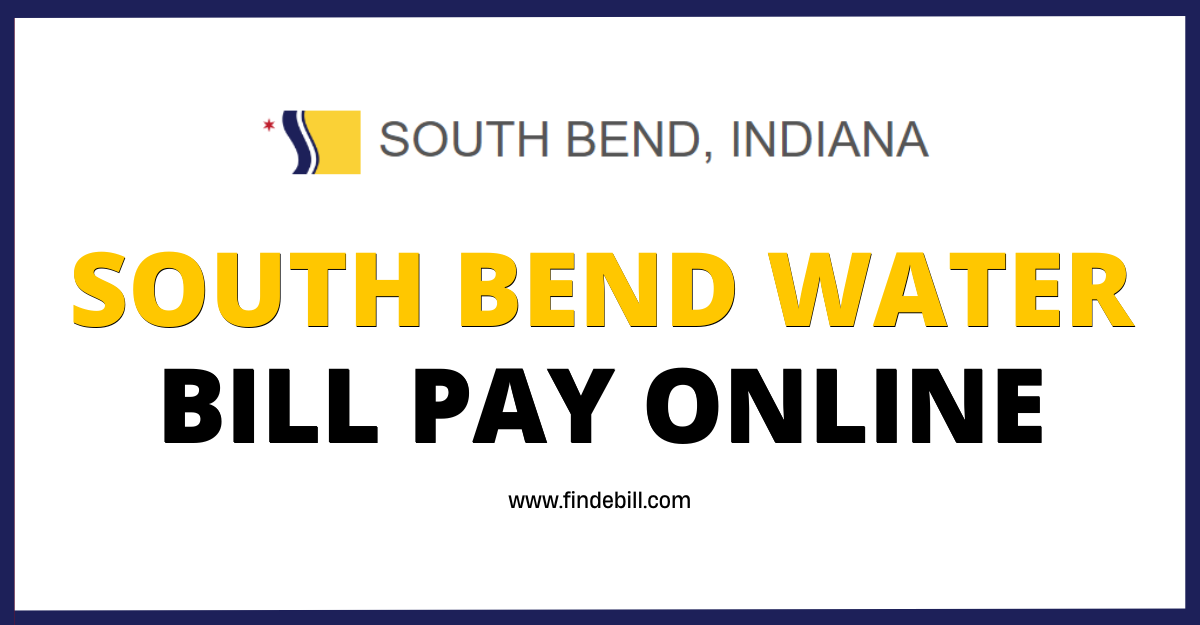 City of South Bend Login
After creating the account, customers can log in to their accounts by providing User Name and Password. Now, with a few clicks, you can access your account. Some benefits are mentioned below. You can pay with MasterCard, Discover card, or Visa debit/credit cards.
24/7 access to your account
Customers can view and download their bills
You can view your bill history
Customers can analyze this water usage. This will give them more control over their future spending.
Other Payment Options Associated With Online Account
These are the payment options that are associated with an online account. Customers can adopt one of these methods, which suits them best at their convenience.
One-time Payment: Pay your bill or any other transaction online without setting up your account. With a one-time payment method, you can pay someone else's bill.
Bank Draft: Download an application for automatic bank draft bill payment. By filling out and submitting an application, you will automatically allow your utility company to deduct their bills at the end of the month. You don't have to put in manual effort. You can avoid many manual expenses as well.
Offline Payment Methods
Apart from online options, South Bend Municipal Utilities offers different payment methods that accommodate customers' preferences.
South Bend Water Bill Pay by Phone
To pay your bill conveniently, call 574.235.9236. This is an automated voice instruction system (IVR). You'll need either your account number or the phone number associated with your account. No fee will be charged on opting for this service. You can pay with all primary payment options.
South Bend Water Utilities Payment by Mail
You can mail your payment to the address below if you prefer traditional payment methods. Please address the "South Bend Municipal Utilities" to avoid any wrong posting. Put your bill with the torn part along with the check or money order and send it to
South Bend Municipal Utilities
PO Box 712 South Bend, IN 46634-7125
South Bend Municipal Utility Bill In-Person
Customers who prefer face-to-face interaction can visit the office and pay their bills. Along with the payment of bills, you can discuss your queries. You'll get an instant receipt while paying in person. You can pay with cash, debit/credit cards, checks, etc. Please visit the office at this address.
South Bend Municipal Utilities Office at 125 W Colfax Avenue
Office timings are Monday to Thursday (8:30 AM to 5:00 PM) and on Friday (9:00 AM to 5:00 PM)
South Bend Utilities Bill Pay At Dropbox
South Bend Municipal Utilities offers the convenience of after-hours payments if you visit after routine working hours. Place your payment in the night drop box located to the left of the Colfax Avenue entrance. Payments made this way will be applied to your account on the next business day.
Company Overview South Bend Water

| | |
| --- | --- |
| South Bend Water Official Website | https://southbendin.gov/ |
| Category | Utilities |
| South Bend Water Bill Pay Phone Number | |
| South Bend Water Customer Service | |
| South Bend Water Social Media Links | South Bend Water Facebook  – Follow on Youtube – Follow On Twitter |
| South Bend Water Headquarters Address | 125 W Colfax Ave, South Bend, IN  46601 |
| South Bend Water services | Water & Sewer |
| South Bend Water Service Area | Indiana |
| South Bend Water Outages | |
Read Also: Citizens Energy Bill Pay Online

FAQs: South Bend Water Bill Pay
Q: What payment methods are available for South Bend Municipal Utilities?
A: South Bend Municipal Utilities offers online payment options, including one-time payments, auto-pay, and bank drafts. You can also pay by phone, mail, in person, or at a drop box.
Q: Is there a fee for using the Pay by Phone service?
A2: No, there is no additional charge for using the Pay by Phone service.
Q: Can I download my billing statements through the online account?
A: Yes, account holders can download billing statements via their online account.
Q: Are there any affiliated third-party paying agents for South Bend Municipal Utilities?
A: South Bend Municipal Utilities is not affiliated with online third-party paying agents. Understanding the terms of service before using such services is essential to avoid payment delays.
Wrapping Up
We hope this comprehensive guide has provided valuable insights into the various payment methods South Bend Municipal Utilities offers. Whether you prefer the convenience of online payments or the flexibility of other payment options, there is an option for every customer. Thank you for taking the time to read this article. And we trust it will assist you in making your bill payments with ease.