If you are a Southwest Gas customer looking for a quick, hassle-free way to pay their natural gas bills, you are on the right website. Days are gone when you have to wait in long queues or buy stamps and envelopes – the future of bill payments is here; now, you can pay in a few clicks. With Southwest Gas online bill payment methods, you can quickly pay your bills, whether it's an SW one-time payment or setting up an autopay, from the comfort of your work or living place. If you're not interested in creating an account, use the Southwest Gas guest pay option. Let's explore the available bill payment method, including how to pay by Phone and mail. Stay with us; we will guide you through stress-free bill payments and a user-friendly Southwest Gas online platform.
Southwest Gas Bill Pay Through Website
To make a safe and quick bill payment, visit the Sw gas website. After registration, you can get under-listed benefits,
You can Track gas usage and download your payment history to avoid extra billing.
You can Manage your account from anywhere, anytime.
Customers can easily update  and edit account information
You can get notifications/alerts about the latest updates and outages.
You can Start a new service and also Stop/Transfer the gas service
You can enrol in Autopay Service.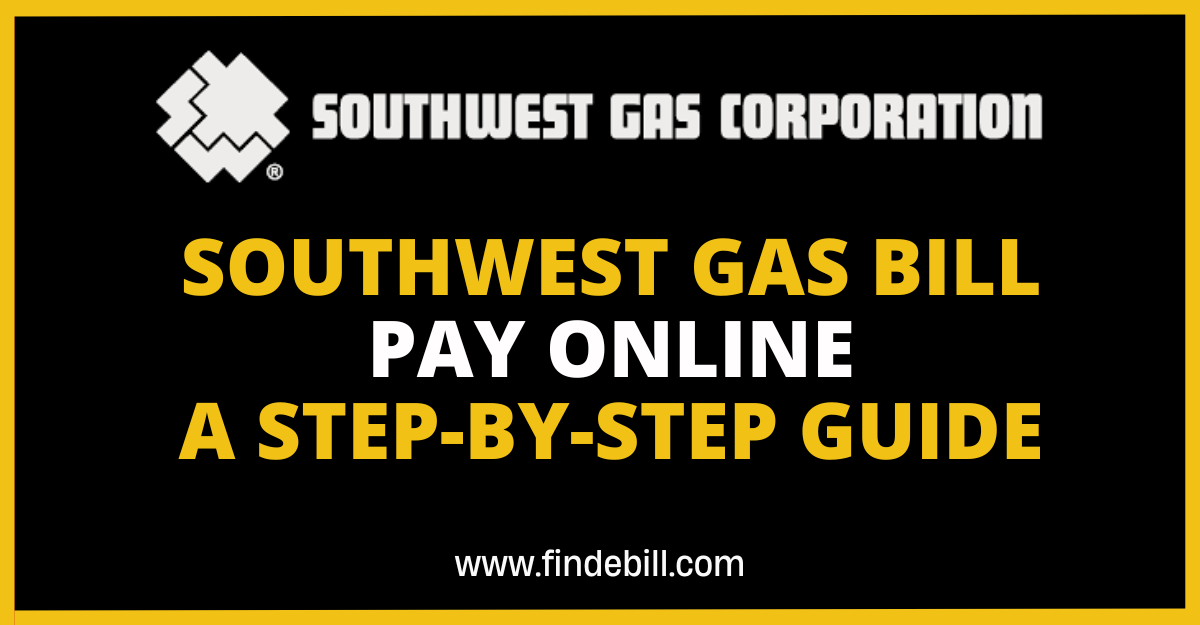 Southwest Gas Bill Pay Login
To get all the benefits mentioned above, you must create an account by
visiting this link
and providing your account number and a tax ID (For commercial users). After Registration,
Login into your
account and enter your username/password to manage your account.
Southwest Gas Pay Bill Pay By Phone
You can pay your bill by dialing 877-860-6020 on your Phone 24/7. Follow automated instructions and provide your checking/savings account or credit/debit card information with your account number. For more information about pay-by-phone service, please call Southwest Gas customer service at 877-860-6020.
Southwest Gas Pay Bill With Debit Card
You can pay the SW gas bill with a credit, debit/ATM card, or e-check using BillMatrix services. BillMatrix will charge a nominal convenience fee if you pay with these cards. Call 1-800-232-6629 Speedpay helpline for more details.
Southwest Gas Payment By Mail
Send your SW gas bill payment traditionally by mail with the lower part of the bill and check or money order and send it to,
Southwest Gas Corporation
P.O. Box 24531
Oakland, CA 94623-1531
Use an envelope provided by SW Gas every month with a bill copy. Write the SW gas account number on the check/Money order to avoid delays.
Pay My Southwest Gas Bill In Person
You can also visit SW Gas's authorized payment location to pay your bill. Provide your account number to continue the payment procedure. You can find your interest location by visiting the Payment Locations page. Need more assistance with payment location, call SW customer care at 877-860-6020.
Company Overview – Southwest Gas
Established in 1931, Southwest Gas Corporation is a Southwest Gas Holdings Inc subsidiary. Southwest Gas provides affordable and reliable natural gas in Nevada, Arizona, and California. Southwest Gas proudly serves 2 million customers.
| | |
| --- | --- |
|  Official Website | https://www.swgas.com/ |
| Category | Utility |
| Southwest Gas Phone Number | |
| Southwest Gas Customer Service | |
| Customer Support Email | |
| Social Media Links | Facebook – Follow On Twitter |
| H.Q. Location | 5241 Spring Mountain Rd Las Vegas, NV  89150 |
| Services | Natural Gas |
| Service Area | Arizona, Nevada, California |
| Linkedin | southwest-gas-corporation |
| Report Gas Leaks/Emergencies |  Call 911 and 877-860-6020 |
Also Read. Southern California Gas Bill Pay | Socalgas Login
SW Gas Online Bill Payment By Mobile App
SW Gas has developed a Smartphone application for a seamless and convenient online bill payment experience. You can manage your SW gas account, view your bill online, download your nose, and, most importantly, you can pay your bill directly from this account. Get it from App Store or get it on Google Play.
FAQ – Southwest GasPay Bill
Q. How do I pay my Southwest Gas bill Online and Traditionally?
A. Customers can pay their Southwest Gas bill online through an online portal by dialing 877-860-6020, sending mail to Southwest Gas Corporation P.O. Box 24531 Oakland, CA 94623-1531, and in person by visiting authorized payment locations.
Q. How can I contact Southwest Gas?
A. To contact Southwest Gas, Dial 877-860-6020 or email customerinfo@swgas.com.
Q. What is the process for southwest gas to start service?
A. To get a new connection, visit this link for online service through S.W. Gas mobile app or by calling Customer Service at 877-860-6020.
Q. Can I pay my S.W. Gas bill By Phone?
A. Customers can pay their bill by dialing 877-860-6020 on your Phone 24/7
Q. What is the southwest gas las vegas contact number?
A. Dial 877-860-6020 to contact southwest gas las vegas.
Wrapping Up
Southwest Gas digitalizes its online billing system for the betterment of its customers. We have discussed the Southwest Gas bill pay online system; now, you can choose the bill payment method that suits you best. You can ask for any queries related to the Southwest Gas online billing system; our team will guide you about your issue in a professional way. Thank you for reading. Please share it.