In this article, we will discuss Suburban Water bill pay online. Companies are working to make their payment options more convenient and easy. Keeping in view this demand of customers, Suburban Water System also modernized its payment portal to ensure that the process is straightforward. In this article, we'll discuss all the options Suburban Water offers. We'll discuss the step-by-step procedure of each payment option along with their feature and benefits. So, read the complete article for a thorough understanding.
Suburban Water Bill Payment Online
One of the most convenient ways to pay your bill is through online payments. This will give you access to your account 24/7. You don't have to go out for bill payments. Customers can pay their bills from the comfort of their homes. With your online account, you'll get multiple benefits. Acceptable payment methods are Visa or MasterCard debit/credit card or checking account.
Suburban Water Signup
To create your account, you must complete the signup process by providing this information.
Account Number
User ID
First Name
Last Name
Email Address
Confirm Email Address
Password
Confirm Password
Verification ID
Suburban Water Login
Once your account is created, you can log in to your account by providing.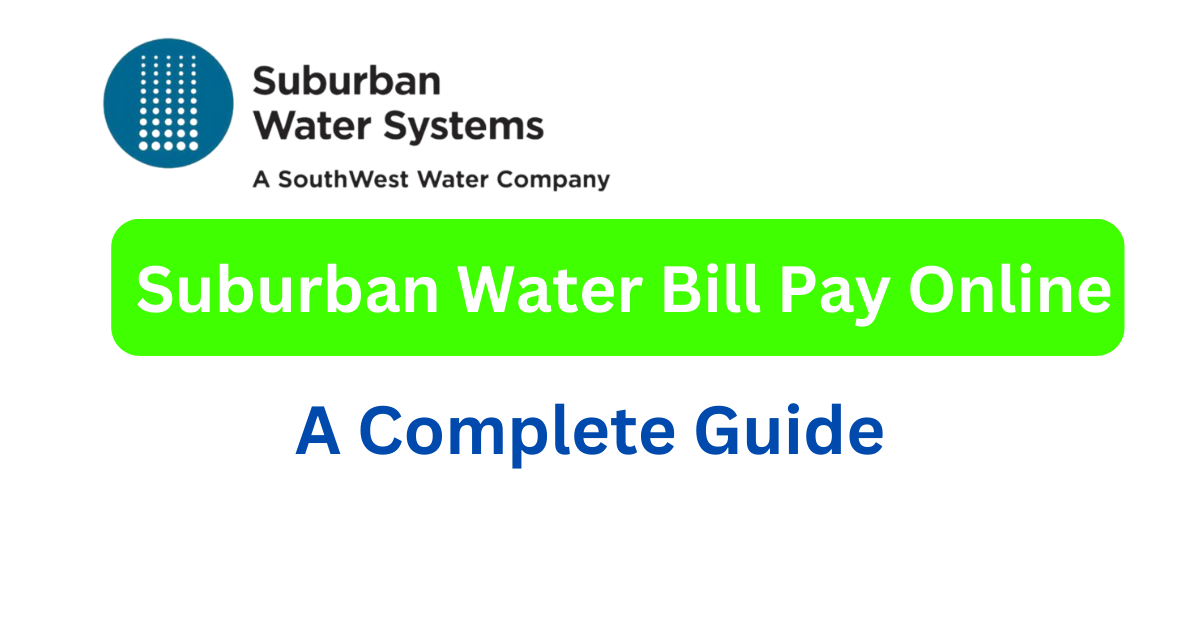 Suburban Water One Time Payment Method
Customer can pay their bills without creating their account on the official website. They can pay with the one-time payment method. Apart from your bill, you can also pay someone else's bill. You have to provide your Account Number for further proceeding.
Suburban Water Online Payment By Autopay
Customers can set autopay and forget about the bill payment tension. Suburban Water offers an option of automatic payment by bank draft. Your bill will be deducted automatically from your checking or savings account by setting autopay. You have to log in to your account to get this service.
SWWC Suburban Pay My Bill by Mail
Traditional payment by mail is also an option for customers. Enclose the bottom part of the bill and check or money order in the envelope and send it to the
Suburban Water Systems
Payment Center
P.O. Box 6105
Covina, CA 91722-5105
Suburban Water Bill Pay By Phone
If you prefer a quick and automated payment method, you can pay your water bill by phone. Call 626-543-2640 for San Jose Hills customers or 562-944-8219 for Whittier-La Mirada customers. This 24/7 service is secure and automated without a live representative. You can
Check your account balance
Get information on your last payment
Make payments using credit or debit cards with a VISA or MasterCard logo
Suburban Water Make a Payment In Person
Suburban Water Systems offers the option to pay in person at any of our district offices. Payments can be accepted in checks, cash, money orders, and Visa or MasterCard debit/credit cards. Please note that district offices are closed on Fridays, and this option is unavailable for business accounts.
Pay with Cash at Your Local Store
For those who prefer to pay in cash, Suburban Water Systems now offers a new cash payment option. You can locate your nearest store payment location. Enter your address and look for "Suburban Water Systems" on the list. Make sure to bring a copy of your water bill to the payment location, as it will be required to process your payment. Payment locations accept CASH ONLY, and there are no convenience fees.
Company Overview Suburban Water
| | |
| --- | --- |
| Suburban Water Official Website | https://www.swwc.com/ |
| Category | Utilities |
| Suburban Water Bill Payment Phone Number | |
| Suburban Water Customer Service | |
| Social Media Links | Suburban Water Facebook– Follow on YouTube – Follow on Twitter |
| Suburban Water Headquarters Address | 1325 N Grand Ave, Covina, CA 91724 |
| Suburban Water Services |  Water & Sewer |
| Suburban Water Service Area | California |
| Suburban Water Leakage | 626-543-2640 |
Read Also: Irvine Water Bill Pay Online

FAQs: Suburban Water Bill Pay Online
Q. How can I pay my water bill online?
A. You can securely pay your water bill online through our 24/7 online bill pay system, which accepts Visa and MasterCard debit/credit cards or checks from most banks.
Q. Is there a cash payment option available for my water bill?
A. Yes, you can pay with cash at your nearest store payment location. Visit the CheckFree Payment Locator website, search "Suburban Water Systems," and bring your water bill for payment processing.
Q. Can I set up automatic bank drafts for hassle-free bill payments?
A. Absolutely! You can set up automatic bank drafts by using Customer Portal.
Wrapping Up
In this article, we have provided a complete guide about each payment option offered by Suburban Water Systems. Whether you pay online, in person, by phone, or through one of the assistance programs, With our guide, you can pay your bill quickly. You'll have the option to check the best choice for yourself. Thank you for reading the article. Please share with others.