Tucson Water bill pay online is our today's blog topic! Thanks to Tucson Water Management's convenient and reliable online bill payment options. Paying your utility bills has always been hectic. Whether you are a resident customer looking to pay your City of Tucson water or sewer bill, this blog guides you through the most straightforward process. With the online bill payment method, you don't need to wait in long queues and spend money on paper bills – with various features like Tucson Water login, online payment apps, and even the convenience of phone payment services; you have many options at your fingertips. This blog explores the steps for Tucson water bill payment online, the City of Tucson utility services, and the available options, including Tucson one-time bill payment and app-based transactions. Stay with us and find hassle-free Tucson water bill payment solutions!
Tucson Water Bill Pay Online
Paying your water bill through the website is the best way to pay your bill online. There are many benefits if you pay your bill through the website. Here are some main benefits,
You can view, pay and download your Tucson water bill.
View and download bill payment history.
You can Sign-up for Tucson Autopay Service.
You can get alerts Trom Tucson by email or Text.
Set up a Text-to-Pay service if you prefer to pay by Text.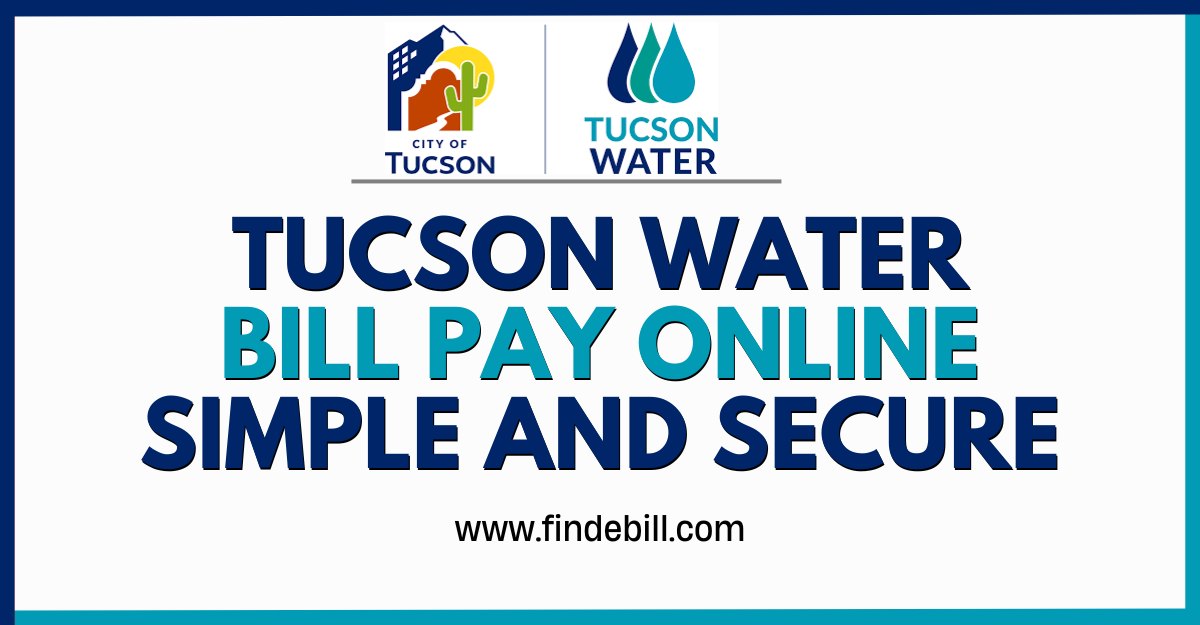 Tucson Water Bill Pay Online Login
To access the Tucson Water login page, first, you need to create an account on the Tucson Water office website. Visit
Utility Bill Payment Portal
page and click on the
Register Now
option and provide under-lister information,
Email Address
Password
First Name
Last Name
Phone Number
Mobile Number
ZIP Code
Security Question 1
Security Question 2
Now click On enroll button. If you already have an account, provide your Email/Password to access the customer portal.
Tucson Water Bill One-Time Payment
You can pay your water bill through the One-Time Payment service in 3 easy steps. This service is best for those not willing to register for an account on the Tucson water website. All you need to provide is your Tuscon water account number. After successful payment, you will receive a confirmation number from Tucson Water and save it for future records. If you make a Payment before 12:00 AM, MST will be posted on the next business day. To pay through this option, visit the Make One-time Payment page.
Tucson Water Bill Pay Online By Phone
Tuscon Water customers also have the option to pay their water bill over the Phone by dialing (520)-7913242 24 hours a day. Follow the automated Interactive Voice instruction and complete the process by providing your account number and MasterCard, Visa, Discover, or e-check details. If you need more assistance with this service, call Tuscon customer service at 520-791-3242 or 800-598-9449
Pay My Tucson Water Bill BY MAIL
Tucson Water customers can also pay their bills traditionally. Send returning envelopes with a check or money order, including the lower part of your bill copy, to,
The City of Tucson P.O. Box 51040 Los Angeles, CA 90051-5340
City of Tucson Water Bill Payment In Person
You can pay your Tucson water bill at Western Union locations. To complete the payment process, visit this location and provide your account number and other details. A nominal fee applies.
Pay Tuscon Wate Bill At Dropbox; visit the City of Tucson payment Dropbox locations to pay through Dropbox.
Dropbox Locations
| | |
| --- | --- |
| Tucson Water | 310 W. Alameda St |
| Patrick K. Hardesty Midtown Multi-Service Center | 1100 S. Alvernon Way |
| Thomas O. Price Service Center | 4004 S. Park Ave |
| Eastside City Hall | 7575 E. Speedway Blvd |
| City Hall | 255 W. Alameda St |
Company Overview – City Of Tuscon

 Official Website
Category
Utility

Tucson

Water Phone Number

520-791-3242 – 800-598-9449 (toll-free)

Tucson

Water Customer Service
Phoenix Water Email

CustomerSupportUnit@tucsonaz.gov

Social Media Links
Facebook –  Follow On Twitter
H.Q. Location

255 W. Alameda St. Tucson, Arizona 85701

Service
Water & Sewer
Service Area
Tucson – Arizona
YouTube Channel
@CityofTucson
Also Read City of Phoenix Water Bill Payment: A Comprehensive Guide
Faqs Tucson Water Bill Pay Online
Q. How do I pay my Tucson Water Bill?
A. You can pay the bill through Utility Bill Payment Portal by Phone by dialing (520)-7913242, by mail by sending payment to The City of Tucson P.O. Box 51040 Los Angeles, CA 90051-5340, and in person by visiting Western Union locations and Dropbox.
Q. Where to pay the Tucson Water Bill?
A. You can visit the Western Union location and above listed Dropbox locations.
Q. How to contact Tucson Water?
A. You can contact them by calling 520-791-3242 – 800-598-9449 (toll-free), emailing CustomerSupportUnit@tucsonaz.gov, and visiting their head office at 255 W. Alameda St. Tucson, Arizona 85701.
Wrapping Up
Like other Water provider companies in the united states, Tucson Water also upgrades its billing system with digital technology for the betterment of its customers. Customers have various options to pay Tuscon Water bills online and traditionally. We covered the topic "Tucson Water Bill Pay Online" in detail; now choose this water bill payment option that suits you best. Thank you for reading. Please share it.