WSSC water customer, welcome to my blog. Today, we will explore multiple options for WSSC water bill pay online. Digital technology has made bill payment more straightforward and more reliable. With various online options, customers can pay water bills from anywhere and on the go. However, you also pay your bill through traditional methods. Stay with us, explore all available bill payment methods offered by WSSC Water, and choose the best water bill options according to your needs. We will also answer your queries like WSSC water customer service, essential phone numbers, and other contact details.
WSSC Water Bill Pay Through Website
Paying the WSSC Water bill online through the website is a quick and free option. After enrolling in My WSSC Water, you can get these benefits.
Receive bills through email.
View, download, and pay your bill.
Track daily usage
Contact WSSC customer care
Register a complaint.
Get alerts/Notifications through email.
Sign-Up for Ebill
Manage your account
WSSC Water Login
Don't worry if you don't have a WSSC water account. Visit the Register Your 'My WSSC Water Account page and provide the required information,
First Name
Last Name
Address (Line 1)
Address (Line 2)
City
State
Zip Code
Phone
Email Address
Password
Security Question
Security Answer
Now click on the submit button. Customers already have an account. Visit "My WSSC Water" and enter the user ID and password.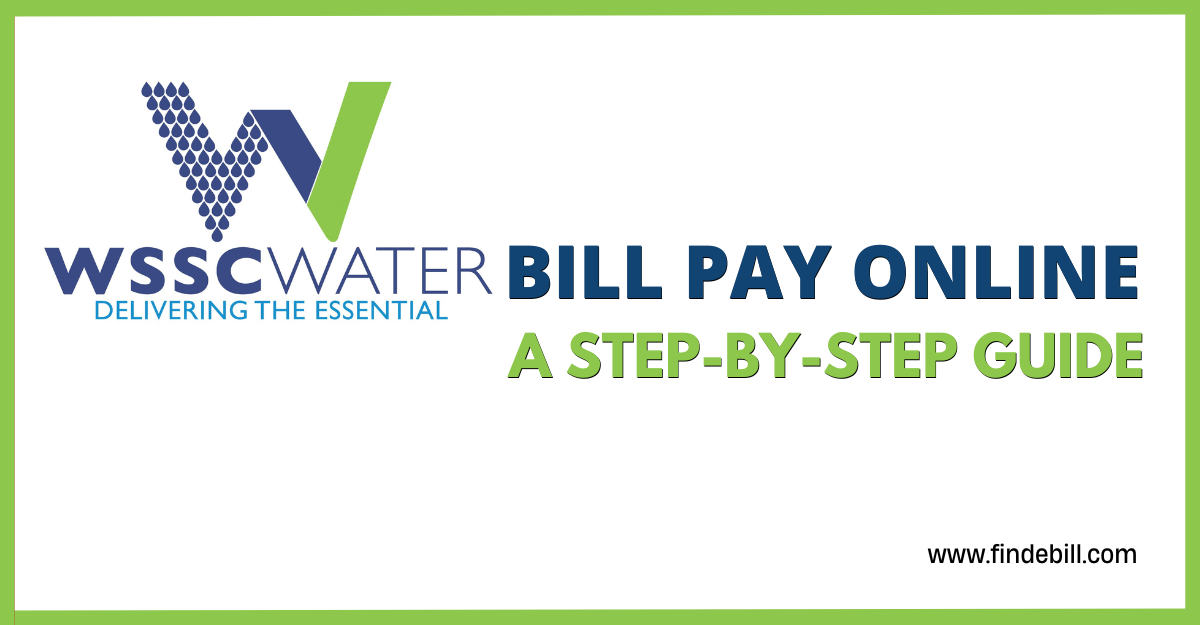 Pay My WSSC Bill Online App
WSSC has developed a Mobile App. This app lets you conveniently pay, -view, and download your water bill. You can also register a complaint and get service alerts. You can access your "My WSSC Water" account on the go. Download the WSSC Water Mobile App from the App Store and  Google Play now and get the abovementioned facilities.
Wssc Water Bill Payment Online By E-Z Pay
Customer can pay their bill through E-Z Pay; E-Z Pay is the authorized payment partner of WSSC Water. Here is the process and benefits.
E-Z Pay Direct Debit Program:  You can conveniently pay bills by setting up automatic debits from your checking/savings account on the due date.
Convenient Process: After enrolling in E-Z Pay, access your e-bill online and authorize the payment amount and date.
Online Registration: To get started with this service, visit the Sign Up for E-Z Pay page and provide an image of your check.
E-Z Pay Rules: Before using this service, carefully read and understand E-Z Pay Rules to get better results.
WSSC Water Bill Pay By Phone
Dial 301-206-4001 or toll-free 1-800-634-8400 to pay your bill over the Phone. Follow the automated instructions and provide your WSSC billing account number. Payment mode to pay by Phone is a credit card or check, but paying with a credit card, you must pay a service fee of $1.69. If you need more assistance, visit Paymentus Terms and Conditions.
Pay My WSSC Bill Online At Kiosks
If you are not interested in paying bills online, you can visit  WSSC Water kiosks (self-service)
| | |
| --- | --- |
| Richard G. Hocevar Building | Lobby Level, 14501 Sweitzer Lane, Laurel, MD |
| Montgomery County Satellite Office | 2425 Reedie Drive, 7th Floor, Wheaton, MD 20902 |
| Prince George County Department of Permits | 9400 Peppercorn Place, Largo, MD |
After visiting kiosks, customers can access WSSC's Official Website, pay their water bill, and apply for purchase permits and watersheds.
How Do I Pay My WSSC Bill By Mail
You can pay your WSSC water bill traditionally by mail. Send the WSSC water bill stub and a check/money order in a returning envelope to Send your payment to:
WSSC Water, Revenue
14501 Sweitzer Lane
Laurel, MD 20707
Do not send bill payments in cash to avoid delays.
WSSC Water Pay Bill In Person
Customers can pay at WSSC Water-authorized locations. Customers can visit from Mond-Friday  8:00 a.m. to 5:00 p.m., at 14501 Sweitzer Lane, Laurel, MD 20707, to pay their water bill. They also pay through PayNearMe service at 7-Eleven, CVS Pharmacy, or Family Dollar store. A nominal fee of $1.69 will apply. Call WSSC Water Customer Service at 301-206-4001 for more assistance with this service.
WSSC Water Pay Bill By
 Drive-Thru window 
Visit the Dropbox location and your bill through check or money order.
 Dropbox Locations
14501 Sweitzer Lane

Laurel, MD 20707
Cash Payments are not allowed at these locations.
Company Overview WSSC Water
WSSSC stands for Washington Suburban Sanitary Commission.
| | |
| --- | --- |
|  Official Website | https://www.wsscwater.com/ |
| WSSC Water Phone Number | |
| WSSC Customer Service | |
| WSSC Customer Support Email | customerservice@wsscwater.com |
| Social Media Links | Facebook – Follow On Twitter |
| WSSR Water Linkedin | WSSC Water |
| WSSC Headquarter Location | 14501 Sweitzer Ln Laurel, MD  20707 |
| Service | Water & Sewer |
| Service Area | Maryland |
| YouTube Channel | @WSSCVideos |
Also Read: Pepco Pay Bill Online | Pay Pepco Bill Speedpay
FAQs wsscwater.com Water Bill Pay
Q. How can I pay my WSSC water bill?
A. A. You can pay the bill through your WSSC water bill pay online login portal by Phone by dialling 301-206-4001, by mail by sending payment to WSSC Water, Revenue 14501 Sweitzer Lane Laurel, MD 20707, and by visiting the Payment Location mentioned above.
Q. What is the phone number for the WSSC water bill?
A. Dial 301-206-4001 to pay the bill by Phone.
Q. Where is WSSC Water Headquarters located?
A. Visit their14501 Sweitzer Ln Laurel, MD  20707.
Wrapping Up
WSSC Water now offers an easy and more secure utility payment option. WSSC Water customers have various options to pay their WSSC utility bills online and traditionally. Today, we discussed all available bill payment methods provided by WSSC Water. Find the best WSSC water bill payment option that meets your needs. However, WSSC Water consumers can write us for more information about WSSC Water Bill Pay Online. Thank you for reading. Please share it.