Tax on mobile phones raises in the last couple of years in Pakistan. There are many reasons for this hike. The main reason is currency inflation against the dollar. Manufacturers of Cell phones are introducing new models with high-Speed performance and HD and cams. Especially new generation intend to buy new phones because of their high performance they need them for Games like Pubg etc. The Pakistani government applies taxes on new and used phones on CNIC and the passport of citizens living abroad. Today you will find detail about How to Check PTA Tax by IMEI Online. It would help to keep all the main things in mind before buying a cell phone.
PTA Mobile Registration Check Online
The process is very straightforward. If you are searching for the current status of your Tax or you want to know whether your phone is registered on PATA or not, follow the process. You need to send your IEME number to 8484. If PTA registers your phone, you don't need to pay Tax, and if you are not registered there, then you need to follow the process mentioned below.
Procedure PTA Tax Check Online 2022
Click the link below to Pay your phone registration tax online
https://dirbs.pta.gov.pk/drs/auth/login
You will see this interface. Click on Sign up.
In the next window, this screen will appear with an important message for you. Carefully read and understand the instructions given in the message.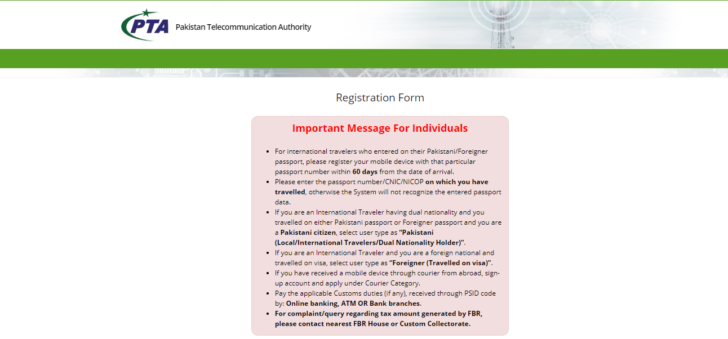 On the right, you will find two mandatory options, Purpose and user Type.
After clicking on Purpose, two options will appear "Personal" and "Commercial."
Note: The commercial field is only for FBR Registered importers /companies.
After selecting the "personal" option, you must choose the user type.
Again, you will be given two options: 'Pakistani' (local, international traveler, dual national) and 'Foreigner.' Click on the option of your choosing.
In the Next form window, you have to provide your credentials like your full name, email address, phone number, etc.
After providing the required information, click submit button.
You will receive a confirmation email from PTA.
After account confirmation, log in with your Email password.
After logging in, you will see INDIVIDUAL COC on the left corner of your screen. Click it.
  You Will See Apply for COC Click it.

After Clicking  Apply for COC, you will see many options on the screen.
If you get mobile by Couriers, Choose the option whether you are an international traveler or local.
If you choose the local option, you must provide your cell phone operator and your registered sim number against your CNIC.

Now, select the number of slots on your device.
Now provide the IMEI of your device. in case more than one slot, you must provide IMEIs for all of them.
Final Things to Follow to Register your Mobile Device Online
After providing your Device IMEI Number, Press/Click the Submit Button.
After Your details verification, the automatic system will generate a payment Slip ID (PSID) Code.
With this Code, you can pay your Tax in any Online Mobile Banking, ATM,s Mobile Wallets Like Easypaisa, Jazcash, UBL Omni, and all central banks like Meezan Bank, NBP, MCB, Allied Bank, etc.
Conclusion
The PSID code is Valid for only seven days; if the code expires, you must apply again for your mobile device registration. We provide all the processes most efficiently. We always try to give an easy solution to our readers. If you are iPhone 14 series user, you must read our article iPhone 14 Pro Max PTA Tax in Pakistan 2022. Note:- By dialing *#06# from any Phone, you can find your Mobile's IMEI Number. Thank you for reading.