In this article, we'll discuss Glendale City Water bill pay online. Managing your Glendale city water bill payment is now easier than ever, thanks to the modern payment options companies have adopted to increase the customers' overall experience. The City of Glendale Utilities has also modernized its payment procedure, including online payment, traditional mail, and in-person. This comprehensive guide will teach us the various methods available for Glendale City water bill payments while Highlighting each option's benefits.
Glendale City Water Bill Pay Online
Customers can pay their bills with one of the easiest and safest methods. All you have to do is create an account on the official website of the Glendale City Water. Please complete the signup process by providing this information to make the account.
User Name
Password
Confirm Password
Mail Zip Code +4
Account Number
Email Address
Confirm Email Address
Then click the Register button for further proceeding.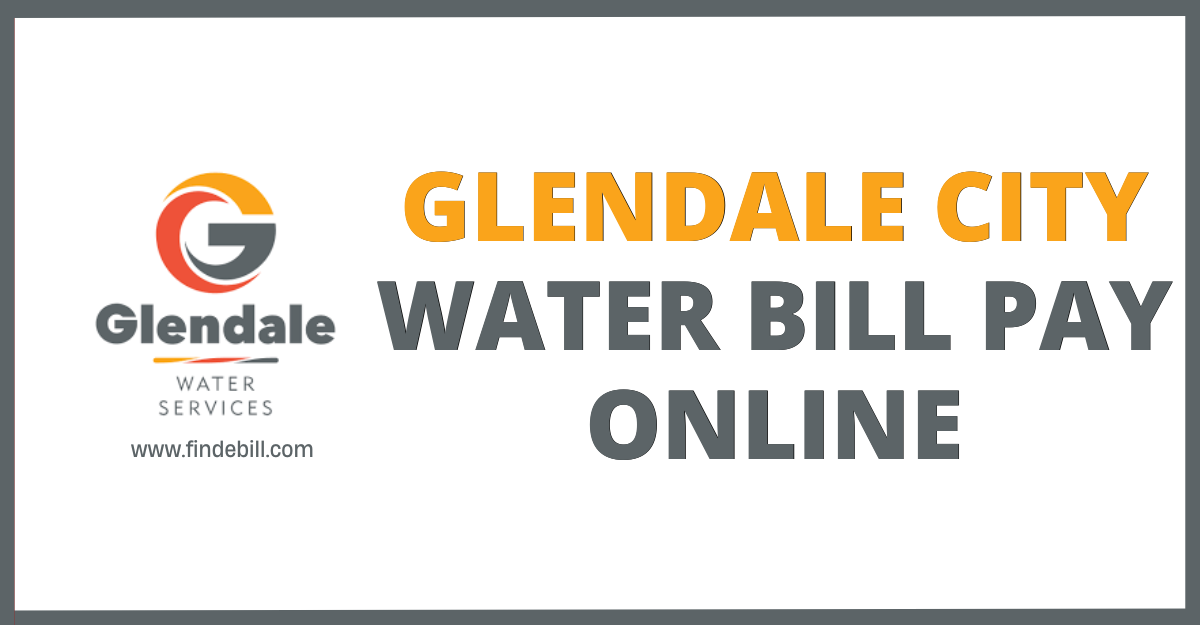 Glendale City Water Bill Login
After creating the account, you can log in by providing the User Name and Password. Multiple benefits are associated with an online account.
Glendale City Water Bill Pay By Phone
When it comes to making Glendale City water bill payments, you have the option to pay by phone. Dial (623) 930-3639 to securely complete your payment over the phone. This hassle-free method ensures a quick and easy way to pay your bill from home.
Glendale AZ Water Bill Payment By Mail
Another way to pay your bill is by sending your payment to the following address.
P.O. Box 500, Glendale, AZ 85311-0500.
Enclose your bill and check or money order in the envelope. Please make a check in the name of Glendale City Water Company.
City of Glendale AZ Water Bill Pay In Person
For face-to-face interactions, Glendale's Customer Service is now conveniently located at the Glendale Civic Center Annex, specifically at 5752 W. Glenn Dr The office operates from 8:00 a.m. to 5:00 p.m., Monday to Friday (excluding city-observed holidays). This option is ideal for those who prefer speaking directly with a customer service representative.
A couple of other options are also available for payments in person.
Glendale AZ Bill Pay At Kiosk
For those who prefer in-person payment, Glendale offers a convenient payment kiosk located just outside the first-floor lobby of City Hall. This Kiosk lets you pay your water bill using cash, credit, or debit cards. Your payment will be promptly applied to your account, so have your utility bill or account number ready with you.
Glendale Pay Bill In Dropbox
If you want to pay with checks or money orders, Glendale provides a Dropbox on the east side of the Civic Center Annex. This secure Dropbox offers a convenient option for traditional payment methods.
Glendale Utility Bill Pay by Paymentus
Glendale has introduced an upgraded utility payment system through Paymentus, making the bill payment process easier and more efficient. This new system offers multiple benefits to Glendale customers, ensuring a smooth payment experience. Some features are mentioned below.
Pay Without Login: You can make quick payments without registering for an online account.
Payment Options: You can pay with credit cards, debit cards, and eChecks.
Digital Wallet Integration: Popular digital wallets, i.e., PayPal, Venmo, and Credit, can be used for bill payments.
Scheduled Payments: You can schedule one-time future payments, offering greater convenience.
Company Overview Glendale City Water
| | |
| --- | --- |
| City of Glendale AZ Website | https://www.glendaleaz.com/ |
| Category | Utilities |
| Glendale City Water Bill Phone Number | (623) 930-3190 |
| Glendale City Water Customer Service | (623) 930-3190 |
| Social Media Links | City of Columbus Water Facebook  – Follow on Youtube – Follow On Twitter |
| Glendale City Water Headquarters Address | 5850 W Glendale Ave, Glendale, AZ 85301 |
| Glendale City Water services | Water & Sewer |
| Glendale City Water Service Area | Arizona |
| Glendale City Water Outages | (623) 930-3190 |
Read Also: Tucson Water Bill Pay Online: Simple and Secure

FAQs: Glendale City Water Bill Pay Online
How do I pay my Glendale water bill?
You can pay your Glendale water bill online through the official Glendale City Water website, by phone, in person at the Glendale Civic Center Annex, at a payment kiosk, or by mailing a check or money order to P.O. Box 500, Glendale, AZ 85311-0500.
How much is the water bill in Glendale?
The cost of a Glendale water bill varies depending on your water usage and other factors. You can check your bill statement or contact Glendale City Water for more information about your specific water bill amount.
What is the average water bill for Glendale AZ?
The average water bill in Glendale, AZ, can range widely based on household size, water usage, and local rates. On average, residents may expect to pay around $40 to $60 monthly for water services.
How much are utilities per month in Glendale AZ?
The monthly cost of utilities in Glendale, AZ, including water, electricity, and gas, can vary depending on your consumption and household size. On average, utility costs in Glendale may range from $150 to $250 per month.
Wrapping Up
Paying your Glendale city water bill has become more convenient and flexible, with various payment options available. Whether you prefer online transactions, in-person payments, or traditional methods, Glendale ensures a hassle-free experience. Managing your utility bills in Glendale has never been easier, and it's all designed for your convenience. Thank you for reading this article thoroughly. Please share this piece of information with others.