illuminating Company customers are welcome to my blog, and here, I'll guide you through "Illuminating Company Bill Pay Online." If you're tired of paying your bill with paper bills and long lines, we have some easy and secure billing methods for you! With the illuminating company's online bill pay service, paying your energy bills has never been so easier. Now You can manage your bills from the comfort of your living or workplace, saving time and effort. And you don't need to worry about forgetting due dates or writing checks – everything is now at your fingertips. We will answer your questions about Illuminating Company Bill Pay Online. Stay with us till the end and find the bill payment options that suit you best.
illuminating Company Bill Pay Through Website
Illuminating Company customers can pay their bills by Web-based Payment. It is the easy and most secure bill-pay method. Customers can manage their accounts and edit details. They can view, download and pay their energy bills through this account. Visit this illuminating company login page and provide and provide username/password. New Illuminating Company customers must register for a new account by clicking Register Now. Click this option, and write your account number, zip code, and other required information to proceed with the registration process. After Registration, you can get several advantages of online billing, like,
Pay your Illuminating Company bill online.

Check your Power outage status.

View your billing history.

Track your usage

Receive email and text alerts

Manage your accounts

Submit your meter reading

Pay With a Checking/Savings Account and Credit/Debit Card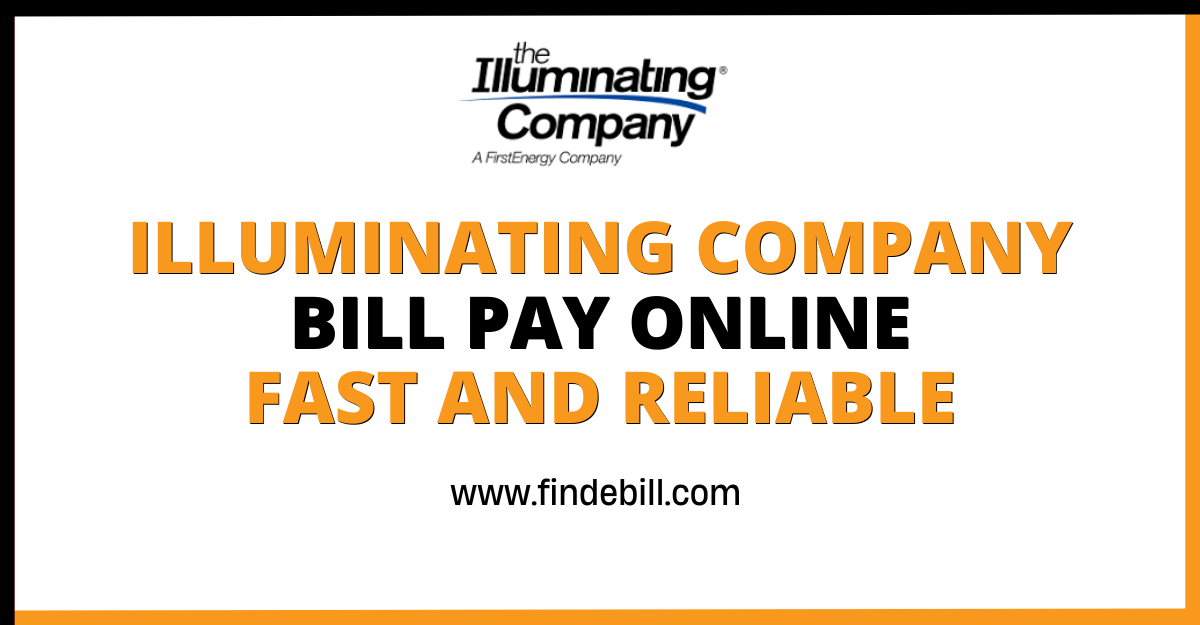 illuminating Company Pay By Phone
Illuminating Company allows customers to pay their energy bill by phone, either by a one-time bank draft or credit card payment. Make a call by dialing 1-800-589-3101 and following the automated instructions to proceed with the payment process. Pay your bill with
Checking Account

Savings Account
Illuminating Company One-Time Bank Draft
If you want to pay your utility bill by One-Time Bank Draft, call Illuminating customer care to pay with your checking or savings account, you can also follow the automated prompts through the IVR to complete the payment process.
Illuminating Company One-Time Credit Card
KUBRA EZ-PAY® powers this service, and you may have to pay a nominal service fee on every transaction. To pay your bill through this service, dial 877-204-2207. Provide the Account number, the expiration date of your card, the ZIP Code according to the account address, card (CVV) number, Phone number, and billing amount.
Illuminating Company Pay My Bill By Mail
You can traditionally pay your bill; enclose your lower part of the bill copy with a check or money order in the return envelope provided with your bill every month. Please check your bill to find the envelope. Send your bill payments to
P.O. Box 3687 Akron, Ohio 44309-3687
Pay United Illuminating Bill Online In-Person
Illuminating Company has contracted with third-party companies to pay your energy bill more conveniently for customer convenience. A service fee will apply to transactions. To find your nearest bill payment agents, provide your zip code.
United Illuminating Company Bill Pay As Guest Payment
Through this service no need for Registration or Login. Provide your electric account number with the zip code to complete the payment process. It is a reliable and quick service. Provide your credit or debit card number, expiry date, and CVV number.
Company Overview – Cleveland Electric Illuminating Company
The Illuminating Company provides reliable and affordable electricity to 700,000 customers in northeast Ohio. The Edison Illuminating Company was founded on December 17, 1880.
| | |
| --- | --- |
| Official Website | |
| Category | Utilities |
| illuminating Company Phone Number | |
| illuminating Company Customer Service Number | 800-589-3101 |
| Media Links | Facebook – Follow On Twitter |
| illuminating Company Headquarter | 76 S Main St Akron, OH  44308 |
| illuminating Company Service Area | Electricity |
| Service Area | Ohio |
| illuminating Company Power Outage Map | 1-800-589-3101 |
| Power Line Down Emergency | 911 |
Read Also, Ohio Edison Bill Pay Online | Ohio Edison Login
FAQs – illuminating Company Bill Pay Online
Q. How do I report a power outage to illuminating Company?
A. Call 1-800-589-3101 to report a power outage.
Q. How can I pay my illuminating Company bill?
A. You can pay your bill online web-based payment by calling 1-800-589-310, Or mail your payment to P.O. Box 3687 Akron, Ohio 44309-3687
Q. How can I contact Illuminating Company customer care?
A. Customer can contact by calling 800-589-3101.
Q. What is the phone number for Illuminating Company?
A. If you need to talk to Illuminating Company, call 800-736-3402.
Q. Can I pay my Illuminating Company bill by phone?
A. yes, you can pay over the phone by dialing 1-800-589-310.
Q. Cleveland Illuminating Company bill pay Phone number?
A. Dial 1-800-589-310 to pay your bill over the phone.
Wrapping Up
Illuminating Company's convenient online bill pay service offers a user-friendly way to manage your monthly utility payments. With secure and quick bill payment options, you can easily pay your bill from anywhere and even on the go. Enjoy hassle-free online bill payments by choosing the methods that suit you best. We guided you through Illuminating Company Bill Pay Online; if you want to know more about Illuminating Company online billing, write us. Sharing is caring; share my content to support him.