In this article, our focus will be to take you through the National Grid account login process. Like other energy companies, National Grid prioritizes the ease of its customers in bill payments, getting customer support, or submitting complaints regarding inconveniences. National Grid has provided its customers with a login portal on its website to access and manage their accounts. After a quick login, you can download and print your utility bills, track your billing history, analyze your energy consumption, and benefit from several other services.
National Grid Login In Easy Steps
If you are a new National Grid customer and want to register, you can visit their website and click the Sign In/ Register icon.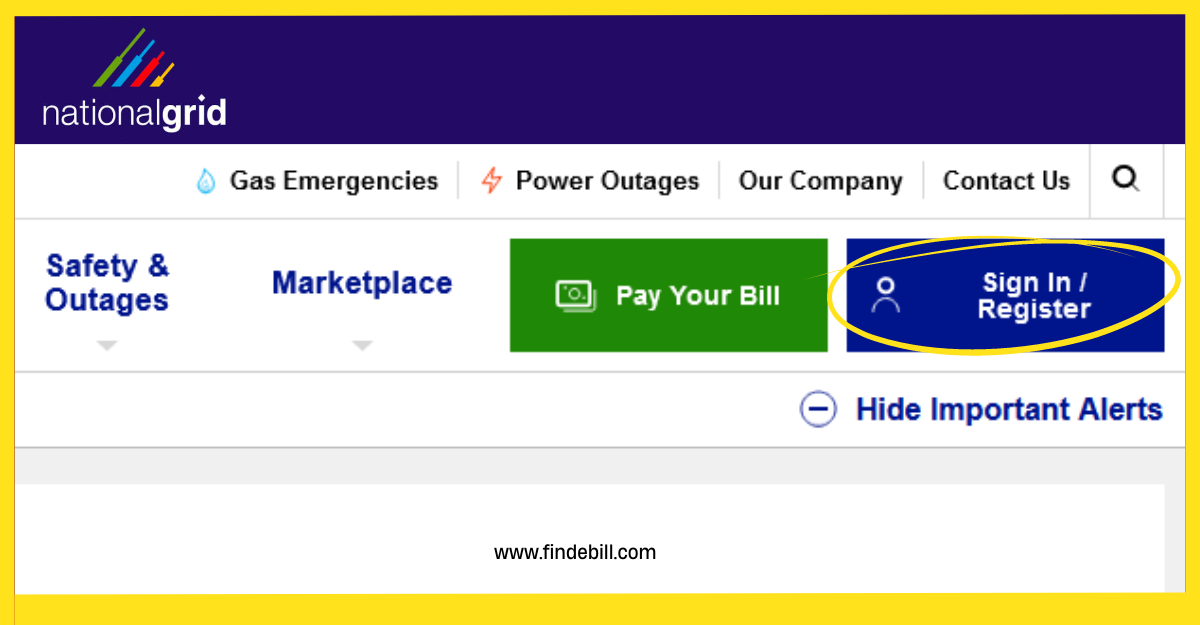 On the next registration tab, you can register yourself by entering the required credentials. Required details are listed below:
An account number
A valid email address
a password
How to Access Your National Grid Account
First, visit the National Grid Official website and select your living area by clicking the location option on the top right corner of the landing page.
As shown in the image below.
Logging into your National Grid account is a quick and easy process. You can access your registered account by entering your login ID and password. After logging in, you can pay your gas and electricity bills. Paying your utility bill online saves you from any convenience fees and prevents you from formally visiting a payment center. You can also track your billing history and energy consumption by logging into your account.
Benefits of Login:
Online bill payments
Energy consumption analysis
Account management
Safety Tips
You can also get guidelines on staying safe in a state of emergency or avoiding a crisis altogether. You can manage your account and make any desired changes if required. A registered account is quite convenient as it informs you of your energy consumption and allows you to pay your bills with just a few clicks.
National Grid Pay Bill Options
Pay through a bank account
You can make a payment through your savings or checking account.
Pay By Credit or debit card.
You can pay using your Credit or debit card (Fees may apply ($1.75 residential, $5.95 business).
Automated payments
You can schedule a payment, and the bill will be automatically paid on the scheduled date.
Other payment methods:
Pay by phone:
You can pay your bill by making a call this number: 1-718-643-4050
Revenue by bank website:
Contact your bank to check if they offer this service.
Pay by mail:
You can mail your bill payment to National Grid PO Box 371376 Pittsburgh, PA 15250-7376
Pay in person:
You can visit National Grid walk-in centers to pay your bill in person.
Red also: If you want to know about online and traditional bill pay methods to pay your National Grid Energy bill please read this article National Grid Bill Pay Online: A Quick and Easy Guide.
Company Overview National Grid
National Grid is a British multinational electricity and gas utility company headquartered in London. National Grid has over 28,000 employees in the US. It provides energy to the northeastern US and upstate New York, Massachusetts, Rhode Island, New Hampshire, and Vermont.
National Grid Customer Service
In case of a gas emergency, electricity outage, or an issue with the energy supply, you can contact customer service, get assistance from the company, or manage self-service. You can access customer service by calling their helpline number: 1-718-643-4050 or dial 911, 24 hours a day, anytime.
National Grid Bill Pay Login Faqs
Q. How can I log in to my account?
A. You can log in to your account by entering your login ID and password.
Q. How can I reset my login password?
A. You can update your password by clicking " forgot password " in the login section.
Q. Can I change my login email address?
A. Yes, you can change your login address.
Wrapping Up
We have tried to provide a thorough login guide to your National Grid account. If you have any questions about the login process, you can leave your queries in the comments section, and our team will help you deal with the issue. Thank you for reaching out to us; stay with us to get future assistance.