Rhode Island Energy Electric Bill online is a reliable and secure way of payment. Life is too fast, and people need more time to visit utility provider offices to pay their energy bills. Technology has reshaped our way of life; now you don't need to go anywhere; with your Smartphone, Tab, or computer, you can pay your bill without leaving your home or office. Rhode Island Energy innovated its bill system to provide customers with easy and convenient bill payment solutions to its customers. Customers can pay their bills by visiting the Rhode Island Energy website, over the Phone, by mail, and by visiting their authorized payment locations.
This blog will guide you through all available bill payment methods from Rhode Island Energy. We also answer your queries like Rhode Island energy bill pay online by Phone, Rhode Island electricity provider's information, Rhode Island energy phone number, and how to see the Rhode Island energy outage map. So, stay with us.
Rhode Island Energy Electric Bill Online
I believe paying your bill through the Rhode Island Energy website is the most secure and quick way of payment. You first need to create an account on their official website. This account has many benefits: You can view and download the Rhode Island Energy bill, manage your account information, Track Energy usage, and pay your bill online. You can enroll in paperless billing and set up an Autopay payment option to save money and time. Customers can stay informed by receiving alerts about Power outages, Gas leakage, rebate programs, and the latest promotions by email and text. Additionally, you can also pay your bill as a guest visitor. To get all the benefits listed above, log in to your Rhode Island Energy account.
Rhode Island Energy Login
Here we will guide you through creating a Rhode Island Energy website account. Open your browser and visit the official website; click the blue login button to visit the Rhode Island Energy Login page. Enter your credentials, like the email ID/ Password, and click the Sign in button. If you are a new Rhode Island Energy consumer, you must create a new account; click "Register for Online Access." Provide your 10-digit account number and press the continue button.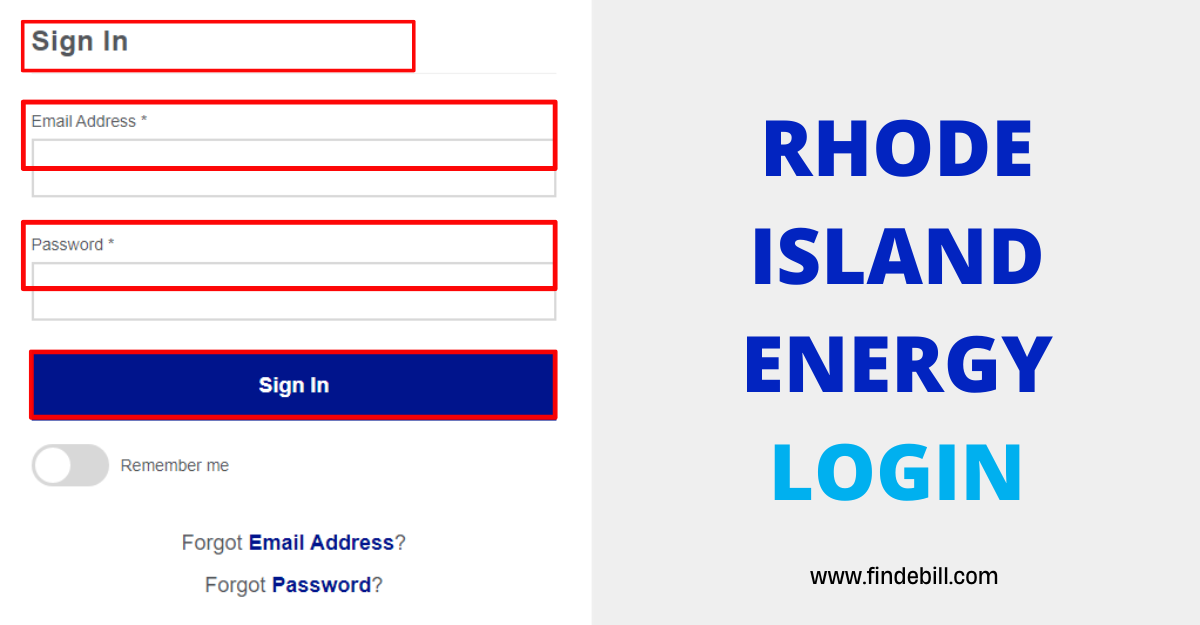 Rhode Island Energy Account Registration
Rhode Island Energy Electric Bill Pay By Phone
Paying your bill online by Phone is a quick and secure way of payment. You can call 1-855-RIE-1101 to pay your bill. Provide your ten-digit account number and pay using your bank account.
Pay by Mail
Customers can send their bill payments by mail. They need to send their checks by mail with ten digit account number to,
Rhode Island Energy P.O. Box 371361 Pittsburgh, PA 15250-7361
Your payment must be reached to the above-listed address seven days before the due date.
Rhode Island Energy Electric Bill Pay In Person
Rhode Island Energy allows customers to pay their energy bills by visiting their Authorized. Provide your account number to a customer care representative to proceed with the payment process.
Pay Rhode Island Energy By SpeedPay
Rhode Island Energy always provides an accessible payment method for its customers. Paying with Speedpay is also a reliable and quick way of payment. If you want to pay through SpeedPay, visit this link. Here also, you can pay using a Debit/Credit card.
Company Overview – Rhode Island Energy
Rhode Island Energy provides natural gas and electricity to 770,000 residential and commercial customers in Rhode Island Area.

Official Website Rhode Island Energy

https://www.rienergy.com/
Category
Utilities
Rhode Island Energy Phone Number
Rhode Island Energy Customer Care

855-743-1101 –

Info@rienergy.com

Rhode Island Energy Social Media Links
Facebook – Twitter
Rhode Island Energy H.Q. Location

25 Research Dr. Providence, RI  02907

Service Area
Electricity – Gas
Rhode Island Energy Service Area
Rhode Island
Rhode Island Energy Power Outage Report
1-855-743-1102
Gas Leake – Emergency
 1-800-640-1595
Also Read:- Ohio Edison Bill Pay Online | Ohio Edison Login
FAQ,s  Rhode Island
Q. How do I contact Rhode Island Energy?
A. You can contact them by calling 855-743-1101 and can also email Info@rienergy.com.
Q. What is the phone number for Rhode Island Energy Electric Bill?
A. If you want to pay your bill over the Phone, call 1-855-RIE-1101.
Q. How can I report a gas emergency or power outage?
A. If you smell any Gas Leake, immediately report it by calling Rhode Island at 1-800-640-1595.
Q. How can I contact Rhode island energy customer service?
A. You can talk with them by calling 855-743-1101 and mailing them to Info@rienergy.com.
Wrapping Up
Rhode Island Energy Electric Bill Pay online system allows you to pay your bill 24/7 from anywhere. It saves you time and money. Here on this website, we provide solutions for your utility bill payment; if you need information about a specific U.S. utility provider or something more about Rhode Island Energy Electric Bill payment solution, you can write us. Sharing is caring. I will be grateful if you share my content with your friend and family. Thanks