There are two types of Meters: mechanical Meters and Digital Meters. Mostly nowadays, all major companies and consumers use digital meters. Because it is very effective and its accuracy is perfect. This article will tell you How to Check Units in a Digital Electric meter. And also we'll give you some introduction to Mechanical meter. This article will also describe how to Check the Digital Electric Meter reading.
How to read Electric Meter and Calculate it
We also called this meter an analogue meter. Nowadays, nearly every consumer and company uses digital meters; some still use Mechanical/Analog meters. So we decided to explain the method of reading Mechanical meters. Please read carefully about some essential things we mentioned in the image below with the diagram. And now, write your meter reading and subtract it from last month's Meter reading and get the actual consumed units of the current month.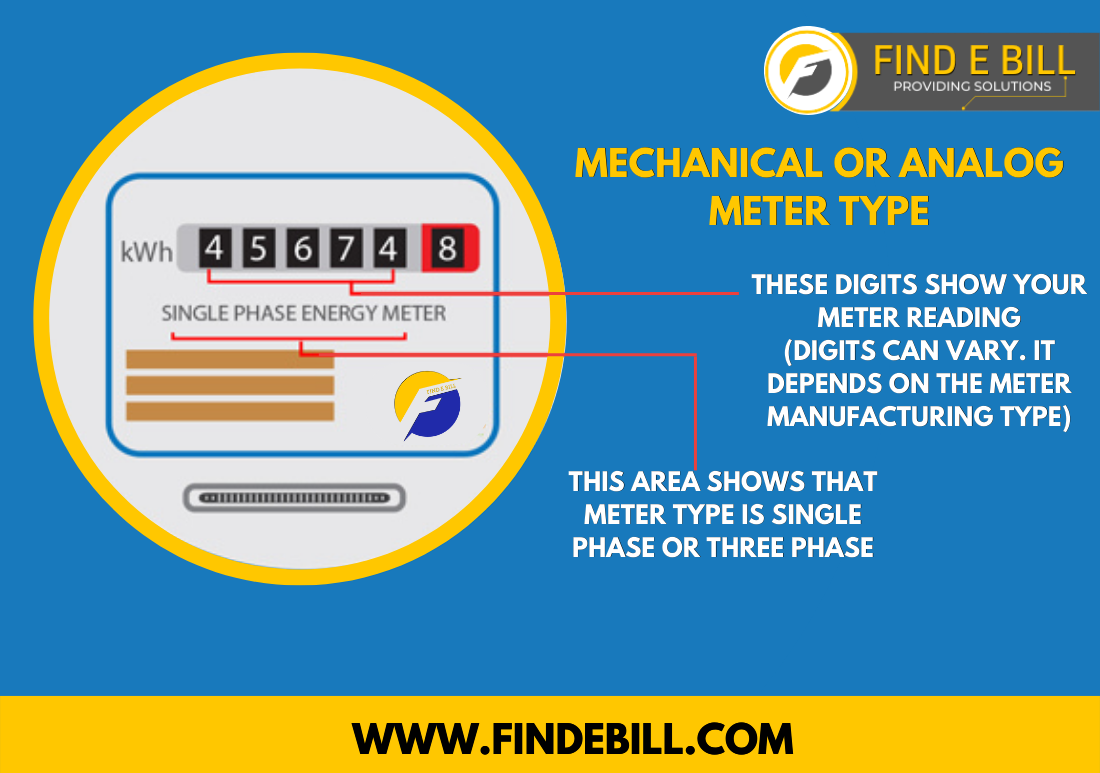 How To Read WAPDA Digital Meter Reading
Digital meters are commonly used for commercial and domestic purposes. Because digital meter accuracy is more accurate than the mechanical or Analog meter, remember these points when you start meter reading.
Always Read the figures from left to right.

You don't need to read the digit after the decimeter.

A button is installed in digital meters to cycle through the numbers on display.
How to Calculate Electricity Bills from Digital Meter Reading
Here is the electricity bill calculation formula. If you need to get the current month's actual consumed electricity meter reading units, subtract the current reading from last month's reading. As a result, you get the exact unit you consumed. If you are living in Pakistan and searching for how to calculate electricity bills in Pakistan, you can apply this method.
Digital Electric Meter Price in Pakistan
Many Companies manufacture digital electric meters or sub-meters in Pakistan; some imported meters are also available in the country. Prices vary depending on the Quality of the product. Midrange Meters Prices start from 800 PKR to 3000 PKR. Most Pakistani companies purchase Digital meters instruments from China and assemble them in Pakistan with their brand Label. Our opinion is if you want to buy a meter from a brand Because  Brands don't compromise on Quality, always try to buy famous brands. Some digital meter brands are mentioned below. In Pakistan, you can find it on Daraz and OLX also.
How
to
calculate
electricity
bill
from
meter
reading
1
.
Deter
mine
your
electricity
usage
in
kil
ow
att
–
hours
(
k
Wh
).
To
do
this
,
subtract
your
current
meter
reading
from
your
previous
one
.
2
.
Mult
ip
ly
your
kWh
usage
by
your
electricity
rate
.
This
will
give
you
your
total
cost
.
3
.
Add
any
applicable
taxes
or
fees
.
4
.
Calcul
ate
any
discounts
or
credits
that
may
apply
to
your
bill
.
5
.
Calcul
ate
your
final
bill
amount
by
subtract
ing
applicable
discounts
or
credits
from
the
total
cost
.
How
do
you Calculate
k
wh
from
an Electric
meter
reading
?
1
.
Deter
mine
the
current
meter
reading
.
Look
at
the
dial
s
on
your
electric
meter
and
note
the
readings
.
2
.
Deter
mine
the
previous
meter
reading
.
Look
at
the
meter
reading
from
your
last
electric
bill
and
note
the
reading
.
3
.
Sub
t
ract
the
previous
meter
reading
from
the
current
meter
reading
.
These two readings differ in
 the
energy
used
since
the
last
reading
.
4
.
Mult
ip
ly
the
difference
by
the
meter
multiplier
.
Each
meter
has
a
multiplier
,
the
number
of
kil
ow
att
–
hours
represented
by
each
revolution
of
the
dial
s
.
5
.
Calcul
ate
the
total
kil
ow
att
–
hours
used
.
Mult
ip
ly
the
difference
from
step
three
by
the
meter
multiplier
from
step
four
to
get
the
kil
ow
att
–
hours
used
.
How to calculate electricity bill in Pakistan
1. Calculate Your Total Electricity Usage: The first step is calculating your monthly electricity usage. This information is available on your electricity bill.
2. Determine Your Electricity Tariff: Once you know your total electricity usage, you must determine the electricity tariff applicable to you. The tariff is based on your location, type of connection, and total electricity usage.
3. Calculate Your Electricity Bill: Now that you know your electricity tariff, you can calculate your electricity bill. To do this, multiply the total electricity usage by the applicable tariff. This will give you the total cost of electricity for the month.
4. Add Taxes and Other Charges: Add applicable taxes and charges to the electricity bill. These additional charges may include fixed charges, fuel surcharges, and taxes. You will have your monthly electricity bill once you have added all applicable charges.
Some Famous Brands/Stores Of Digital Meters
We try to collect the data of some digital meter manufacturers to ease our website, visitors. The undermentioned companies sell digital electric meters. Please visit their stores chat with them in detail, and read opinions and reviews.
vertex

Al-Hutaib Electric Co

sbestore
Iotroniks Engineering Solutions (Pvt) Ltd. Karachi.

Mindificient Solutions Pvt. Ltd.

Mindificient Solutions Pvt. Ltd.

Square Tech Engineering. Karachi.

Smartek Energy And Construction (SMC PVT) LTD. Lahore. 

Electric Multan. Multan.

trafo Link. Lahore.

Mechanical Electric Meter

Digital Electric Meter Error Codes
| | |
| --- | --- |
| Error code | What the code means |
| 1, 2, 3, 50-99 |  There's something wrong with your meter, and we must replace it. |
| D2, D4, 10 |  Your key needs to be talking to your meter correctly. |
| 6, D6 |  You might be using an old or the wrong key for your meter. |
| 11-45 |  Something needs to be fixed with your key. |
How Many kWh Makes a Unit?
How to read kWh meter reading? As We know, one kilowatt-hour (kWh) equals 1 Unit. And if a 1000 watts Bulb uses electricity for ten hrs., it uses Ten units of electricity. For example, if 1 unit is of 5 PKR, we can find the monthly cost as.. 1000 Watts*10 Hrs.*30 Days= 300000 watts/hour.
Variations on watts:
1 kilowatt (kW) = 1,000 watts (W)
1 megawatt (MW) = 1,000 kilowatts (kW)
1 gigawatt (GW) = 1,000 megawatts (MW)
Variations on kilowatt-hours:
1 kilowatt hour (kWh) = 1,000 watt hours (Wh)
1 megawatt-hour (MWh) = 1,000-kilowatt hours (kWh)
One gigawatt-hour (GWh) = 1,000-megawatt hours (MWh)
Here on this website, you can get all information about online duplicate billing and online payments of the under-mentioned companies.
Electricity bill calculation formula?
Electricity Bill Calculation Formula = (Total Units Consumed * Cost Per Unit) + (Fixed Charges + Other Charges)
FESCO HESCO IESCO K-ELECTRIC PESCO  MEPCO SEPCO LESCO TESCO  PESCO QESCO
And many more, So Keep visiting us. Thank you for reading.